Dutch modular data center specialist ICTroom has expanded its product range to include smaller enclosures that can support as few as eight racks of IT equipment and just 50kW critical loads.
The company says the new modules are aimed at customers that don't require a full shipping container of servers, power and cooling equipment, for example telecommunications companies or Content Delivery Networks (CDNs).
The move is In line with the general trend towards smaller 'edge' data centers that can offer better latency and bandwidth for online services by being located closer to the end-user.
Building small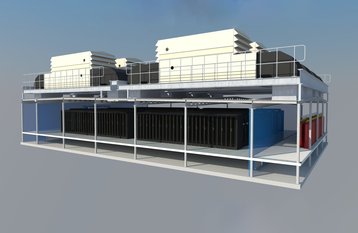 Unlike some of its competitors, ICTroom has never installed its equipment in shipping containers: instead, the company manufactures pre-fabricated, flat-packed 'rooms' that can be assembled on-site.
There are multiple benefits to this approach: modular data centers can be deployed in a fraction of the time it takes to erect a brick-and-mortar facility, and typically include all the necessary IT, power, cooling, fire protection and access control elements.
They can help grow an existing data center in small increments, while maintaining optimum utilization. Modules can also be easily shipped to areas where building a permanent data center is impractical. They have been popping up in deserts, jungles and beyond the Arctic Circle - and are perfect for emergency response operations.
ICTroom's original Integrated Modular Datacenter (IMD) was designed to deliver critical loads in increments of 750kW, with each module comprising 160 server racks or 320 square meters of white space.
These modules are too big for the 'edge', so the company decided to offer more granular steps in scaling capacity, along with smaller enclosures for the racks themselves.
The first addition is IMD50, purpose-built to house just 8-15 racks and to support critical loads of 50-100kW. ICTroom says these modules are suitable for on-site data storage and compute in heavily regulated industries – such as healthcare and education – as well as industrial applications in rugged environments, or as points-of-presence in telecommunications and content delivery.
The next step up, IMD250, supports critical loads of between 125kW and 750kW and offers around 50 square meters of usable IT space.
The original IMD750 design is now top of the range, intended for medium to large sites. All of the IMD models can be mixed and matched to create a larger facility. They can also be customized to accomplish different tasks, with separate modules for power distribution and cooling.
"By expanding our IMD product portfolio, we are enabling even more organizations to benefit from a modular solution, which – when combined with our proven data center expertise – becomes a customized data center or computer room that exactly meets each customer's existing - and forecasted – business requirements," said Frank Brand, managing director at ICTroom.
The company has also launched a technical support services portfolio for data center and computer room operators. Initially available in the Netherlands, it offer standardized maintenance services tiered into three categories, reflecting bronze, silver and gold support levels respectively.