IBM has appointed Arvind Krishna as its next CEO, starting on April 6, 2020.
Replacing Ginni Rometty, he is currently the SVP for cloud and cognitive software, and was a principal architect of the company's $34bn acquisition of Red Hat.
James Whitehurst, Red Hat CEO and IBM SVP, will become IBM President - the first time that the company will have a different person in both CEO and President positions.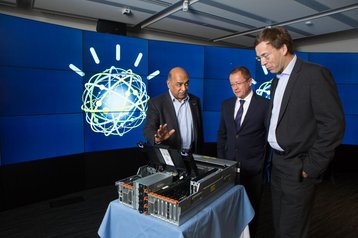 Betting on cloud
"Arvind is the right CEO for the next era at IBM," Rometty said, announcing the move.
She will become Executive Chairman of the Board for the rest of the year, and then retire, after nearly 40 years at IBM - including eight as CEO. During her tenure, the company underwent a difficult transition as its legacy hardware and software business shrank, and newer tech firms dominated the 21st century.
The shift to cloud hit IBM particularly hard, with shares in the company falling by more than a quarter since Rometty took the top job. After she joined, sales fell year-over-year for 22 straight quarters, followed by three quarters of rising sales, and then another six where it fell. But sales rose in the last quarter.
Rometty, 62, added: "[Krishna] is a brilliant technologist who has played a significant role in developing our key technologies such as artificial intelligence, cloud, quantum computing, and blockchain. He is also a superb operational leader, able to win today while building the business of tomorrow.
"Arvind has grown IBM's Cloud and Cognitive Software business and led the largest acquisition in the company's history. Through his multiple experiences running businesses in IBM, Arvind has built an outstanding track record of bold transformations and proven business results, and is an authentic, values-driven leader. He is well-positioned to lead IBM and its clients into the cloud and cognitive era."
Krishna said: "I am thrilled and humbled to be elected as the next chief executive officer of IBM, and appreciate the confidence that Ginni and the Board have placed in me.
"IBM has such talented people and technology that we can bring together to help our clients solve their toughest problems. I am looking forward to working with IBMers, Red Hatters and clients around the world at this unique time of fast-paced change in the IT industry. We have great opportunities ahead to help our clients advance the transformation of their business while also remaining the global leader in the trusted stewardship of technology."
Krishna joined IBM in 1990. He will inherit a business that still faces many of the challenges Rometty wrestled with - particularly its share of the cloud market, thought to be around two percent.