At its annual Cloud Connect conference in Shanghai last week, Huawei put the spotlight squarely on artificial intelligence, taking the wraps off a host of new AI-centric products and cloud services.
Huawei announced the Atlas 800 and Atlas 300, both of which are powered by the company's Ascend 910 AI processors launched last month. The Atlas 800 is a 4U server with eight Ascend 910 processors for 2 petaflops of computing power, while the Atlas 300 is an AI training card with 256 teraflops of computing power.
Ascending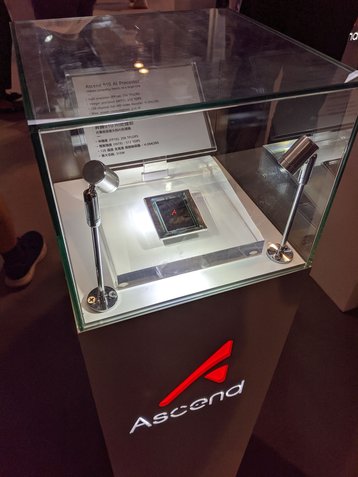 For storage, the Chinese company also announced a new version of its OceanStor Dorado all-flash storage system using its Arm-based Kunpeng 920 general processor and the Ascend 310. Huawei says the new processors will allow the OceanStor C series to reach 20 million IOPS with a latency of less than 0.1 ms and a read cache hit rate with a 50 percent improvement.
Huawei also officially announced the release of 43 cloud services on the company's Huawei Cloud public cloud platform that it says are powered by Ascend processors. While a full list was not release, the cloud services are understood to deliver capabilities that range from data inference, data training, image processing and autonomous driving training.
For instance, ImageSearch has been upgraded with Ascend 310 processors to deliver better performance at a touted cost of just 30 percent the original. Huawei Cloud's autonomous driving service known as Octopus will be powered by Ascend 310 and 910 processors to furnish the processing capabilities designed specifically to support autonomous driving training.
"Our goal is to innovate to customer demand and provide computing power for ubiquitous cloud and pervasive intelligence," said Hou Jinlong, the president of Huawei Cloud & AI Products and Services.
"Our Ascend-based Atlas series of products and cloud services are part of Huawei's AI strategy. The powerful computing capabilities of Ascend processors are now available through cloud and hardware, making computing power accessible and AI inclusive."