Honeywell Building Technologies has launched a software suite to manage data centers.
The Honeywell Data Center Suite, based on the open architecture Internet of Things Niagara framework, is designed to manage fleets of data centers, giving visibility into how sustainable they are.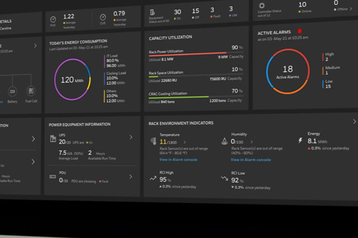 The suite combines data from operational technology (OT) and information technology (IT) infrastructure, aggregating information into a unified data lake. This will give operators more holistic, actionable information to make their data centers more efficient and cut running costs, Honeywell says.
The Data Center Manager tool provides a vendor-agnostic dashboard for the information, allowing proactive monitoring and management. It helps discern the root cause of alarms and helps set up workflows to triage situations to improve response times and reduce human error. Technicians are given a persona-optimized user experience, which proactively provides recommendations for any situation. It also provides insights into the site's energy and carbon use.  
The Portfolio View integrates the Data Center Manager tool across a fleet of data centers, giving an overall view of uptime and sustainability. It gives a fleet-level view down to individual sites and generates a KPI-based score for each site. The tool gathers metrics such as uptime, along with sustainability KPIs such as power usage effectiveness (PUE), carbon usage effectiveness (CUE), and water usage effectiveness (WUE), along with space & capacity utilization and energy consumption. Portfolio View makes logs and reports aimed at senior management, showing performance trends and anomalies.
Finally, Honeywell Forge Digitized Maintenance monitors data center assets and spots early signs of trouble before they develop into issues causing costly downtime. This happens through a condition-based maintenance strategy which should improve uptime and resiliency, increase asset service life, and reduce maintenance and energy costs. It is cloud-based and can be coupled with remote building management.
"Demand for data storage, transfer and processing is insatiable worldwide, which makes it more challenging than ever to run and scale these facilities effectively from a design, build and operations perspective," said Chris McLaughlin, vice president of offering management, Honeywell Building Technologies. "Honeywell is expanding its offerings in data centers to allow facility managers to derive actionable insights securely from their own data to help protect uptime, manage maintenance, reduce energy use, and achieve scaling agility."
Honeywell has also shown an interest in quantum computing, spinning off Quantinuum with Cambridge Quantum in 2021.