Dutch IoT firm Hiber has partnered with Inmarsat to power its commercial services just a week after abandoning plans to build its own satellite network.
Amsterdam-based Hiber offers LoRa and LoRaWAN IoT solutions for monitoring and managing fleets, devices, and infrastructure. It says its devices can send data to satellites through a gateway Edge device.
Hiber said Inmarsat will provide the satellite connectivity backbone through its Elera networks on which Hiber will continue to build its Hiberband low-power network for IoT and provide connectivity in remote and rural regions.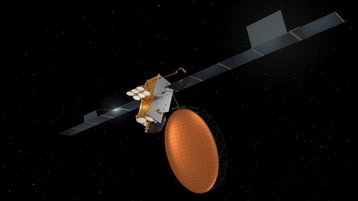 Hiber said it will continue using its own proprietary protocols that allow for ultra-low power and low-data consumption levels to connect to Inmarsat's Elera network and power its IoT solutions. Timelines for roll-out were not shared.
"Inmarsat Elera builds on our global leadership in L-band satellite services, providing a reliable, resilient, and global narrowband network that is ideally suited to the rapidly evolving world of the Internet of Things," said Mike Carter, President, Inmarsat Enterprise. "We are delighted to work with Hiber to provide the IoT connectivity backbone that will support and accelerate their development of proven industrial IoT solutions and services worldwide."
Hiber was founded in 2016 as Magnitude Space. It launched two now-decommissioned satellites in 2018, and launched two more satellites in early 2021. It also constructed two ground station facilities (one in Delft, Netherlands, and another in Svalbard, Norway) to support its satellite network.
"This strategic partnership with Inmarsat creates the most powerful global network for IoT available and helps Hiber to focus on rural, remote, and industrial IoT solutions, which is where the real life-changing innovation will happen," added Roel Jansen, CEO, Hiber. "The partnership also gives Hiber immediate access to a global market, helps us accelerate our time to market, supports new industrial IoT solutions, and widens access to cost-effective near real-time two-way communication on proven, reliable technology."
Last week Hiber revealed it had abandoned plans to build its own network of satellites. The company said issues with two satellites was preventing it from launching a commercial service and fixing them would be too costly, while Covid-19 has prevented it from sourcing additional funds to complete the rest of the planned constellation. Instead, it said it would use leased capacity on "a third-party satellite network". The company was previously authorized to launch 24 satellites.
This year has seen Inmarsat announce the Elera satellite network service for IoT applications and the combined GEO, LEO, and 5G Orchestra network.
Elera expands its current L-band satellite services to provide a narrowband network suited for IoT-based use cases. As part of the service, the company is launching two new I-6 satellites; first new satellite is scheduled to launch at the end of 2021. It previously said live customer trials in commercial aviation are scheduled to start during 2022.
Elera will also be part of Orchestra, which will combine Inmarsat's existing GEO satellites – both GX and L-band – with a new "small constellation" of 150-175 satellites LEO satellites, while terrestrial 5G will add capacity in 'hot spots' such as ports, airports, and sea canals.