Internet services were disrupted in Haiti as multiple fiber cables were cut during protests over record inflation and spiralling fuel costs.
Telecoms companies blamed the issues on the protesters. "In some areas, many of our optical fibers are badly damaged by trees cut down to make barricades or roads dug for the same reasons," Digicel claimed.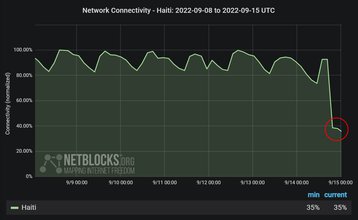 "We remind the population that the company will continue to do everything possible to allow its customers to stay connected in this difficult situation, and we take this opportunity to ask the population to contribute to the protection of its infrastructure," the company added.
The outages began on September 15, bringing national connectivity to 34 percent of ordinary levels, according to Internet outage tracker NetBlocks.
"Operators have identified at least seven optical fiber cuts affecting service this week with repairs made difficult by barricades," the group said.
Services began to return later that day, but protests continue, with attacks on businesses, charity warehouses, and the government-owned television station.
Nearly half of the population faces severe hunger, as prices for imported staples like flour have risen by more than 68 percent and inflation passes 30 percent.
The government has subsidized fuel costs, at a loss of around $400 million a year. Acting president and prime minister Ariel Henry this week announced that it would cut back on the subsidy, raising prices of fuel just as poverty skyrocketed. Protesters have called for his resignation.