Ground has been broken on the Ecocloud Data Centre at the KenGen Green Energy Park in Olkaria, Kenya.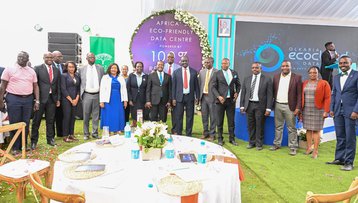 Once completed, the Ecocloud facility will reportedly be powered entirely by geothermal energy which, according to energy provider KenGen, will be the first of its kind in Africa.
The data center will also be the first client at the KenGen Green Energy Park, a development on a geothermal field that is planned to accommodate a variety of industrial and non-industrial activities while providing low power tariffs.
Geothermal energy is stored in the form of heat below the earth's surface. Power plants associated with it often use the steam generated by the reservoirs of hot water below the surface to produce electricity.
The data center will be purchasing energy from KenGen for seven cents USD per kilowatt hour and is expected to consume a total of 70MW.
Sudlows Consulting and X2X Group are partnering as lead consultants for the project. Phase one of the project will have 24MW of IT capacity over eight 3MW data halls, each containing between 300 and 500 racks. The data center has been designed for a PUE of 1.25 or less, and will use an air-cooled chilled water network.
The project is a joint effort of KenGen, Konza Technopolis Development Authority (KoTDA), and other local investors.
"The partnership with KoTDA and the initiation of the KenGen Green Energy Park represents the first step towards a new era of industrialization, one that places environmental sustainability at its core," said KenGen board chairman, Julius Migos Ogamba.
The groundbreaking ceremony was attended by Prime Cabinet Secretary Musalia Mudavadi, Cabinet Secretary for East Africa Community, Rebecca Miano, Eliud Owalo of ICT, and Davis Chirchir, the cabinet secretary for Energy.
Mudavadi said in a speech at the ceremony: "Our Government is keen to ensure that we shift away from facilities that grow our carbon footprint, that is the reason why we are working on the climate change amendment bill of 2023 to ensure that the law is crystallized in regard to facilitating the growth and development of the local carbon market."
He added: "We will facilitate more green data centers as the traditional ones contribute more towards climate changes and global warming due to their high energy demand that result in gas emission."
This month alone has seen a lot of interest in data center development in Kenya. IXAfrica acquired 11 acres of land for a second data center campus, after breaking ground on the first in January. Earlier this week, Japan's IIJ announced that it was exploring the possibility of deploying a modular containerized data center to the African nation.
More in Construction & Site Selection