Green Data Real Estate missed the deadline to acquire a 1.5 million-square-foot former Motorola factory in Harvard, Illinois, it was in the process of buying and hoped to turn into a data center.
The Daily Herald reports that Pinnacle Fund Management, an affiliate of a fellow Nevada group called CAI Investments, LLC, acquired the 303-acre site at 2001 N. Division St. campus for an undisclosed fee.
PMF officially closed the deal this week with the US Marshals Service. The company hopes to redevelop the property for future tenants but hasn't set a firm use for the site yet or potential development timelines.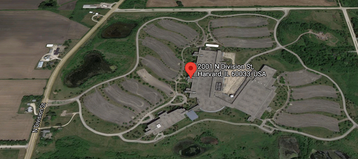 "We are very excited to work with the city and local community to find the highest and best use," company representative Matthew Tucker told the Daily Herald. "Right now we are exploring solar power solutions and plan to redevelop the space and place a tenant in that will create jobs and generate tax revenue for the local economy."
"We are in discussions with multiple different tenants, so depending on where we land with the type of use and build-out will dictate our final timeline," Tucker said.
Canadian data center firm Green Data Real Estate Inc. hoped to buy the campus for use as a data center, but the company reportedly missed the final closing deadline in July.
The property was "offered for sale again to a qualified buyer," according to an August report from the US Marshals Service.
In June DCD reported that Green Data was in the process of buying the campus, with the deal expected to close in July. The company said at the time the site would require some $12 million in upgrades and repairs. The Herald reports the company had already paid a non-refundable fee of at least $500,000, which is being used towards local school taxes.
Green Data planned to begin construction on the property and potentially leasing space before the end of the year. The company also said it was installing solar panels to power the campus, which should take about six months.
In March, Green Data Center Real Estate signed a deal with Solar Alliance Energy Inc. to design a 56MW solar project for a 150 MW data center in Illinois. It's unclear but likely that this was the same project.
Green Data, previously known as NuYen Enterprise Hosting and NuYen Blockchain before that, currently owns a 10MW data center in Murphysboro, Illinois.
Built in 1997, Motorola vacated the 1.5 million-square-foot (139,000 sqm) cellphone manufacturing plant in 2003. Plans to turn the site into a water park or prison fell through, as did a campaign to persuade truck-maker Navistar to move its headquarters there.
In 2016, Canadian businessman Xiao Hua "Edward" Gong bought the property at auction from Optima Ventures for $9.3 million, but the $32 million smartphone manufacturing project he proposed never came to fruition. Ohio-based digital signage company Stratacache reportedly spent years trying to buy the property, before backing out last year and instead purchased a former chip factory in Oregon.
In 2017 Gong was charged with money laundering involving the sale of hundreds of millions of dollars of securities to Chinese citizens, and had his properties seized. A Canadian court previously blocked the sale of the site during his trial, but ruled in September last year that the site could be sold through the US Marshals Service while the case is ongoing.
Earlier this year Baker Development Corp bought a former Motorola plant in Phoenix, Arizona, for $10 million and is considering building a data center on the site. In 2016 Digital Realty bought a former Motorola television assembly plant in Chicago, which it developed into a data center.