Google Cloud Platform will open an infrastructure region in Hong Kong next year, consisting of three separate data center zones.
It will become its sixth region in Asia Pacific, after Mumbai, Sydney, Singapore, Taiwan and Tokyo. The company also teased that there would be further announcements about upcoming Asian regions "in the coming months."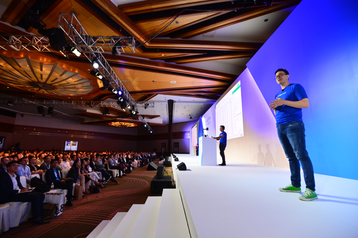 At last
"Hong Kong is an international commercial hub and is among the world's leading service-oriented economies," Rick Harshman, Google Cloud's managing director for Asia Pacific, said in a blog post.
"By opening this region, customers in Hong Kong will benefit from low latency and high performance of their cloud-based workloads and data."
Google had actually planned to open a data center in Hong Kong some time ago - back in 2011 it held a groundbreaking ceremony for a $300m facility set to come online within two years.
Despite some progress, plans for the facility were shelved in 2013 over claims that the company found it difficult to acquire "spacious land." With it pursuing sites in the even more spatially-challenged Singapore, as well as already owning a 2.7-hectare plot of land in Hong Kong, some have speculated that the reasons might have been political.
Now, with Amazon Web Services set to open in Hong Kong next year, Google is ready to try and enter this market once again.
Part of the push includes trying to integrate Google Cloud with Hong Kong's smart city initiatives. In a Google-commissioned white paper, Nielsen espoused the benefits of a cloud-backed city that took advantage of areas where Google has a strong footing - natural language APIs, image recognition and machine learning.
"The GCP Hong Kong region dovetails with our commitment to boosting Hong Kong's digital economy and smart city efforts," Harshman said.
"As discussed in our whitepaper, Smarter Digital City, Hong Kong has just begun its digital transformation, and this new GCP region will make it easier for Hong Kong companies to build highly available, performant applications."
Nicholas W Yang, Hong Kong's Secretary for Innovation and Technology, added: "A solid cloud infrastructure is the foundation for building a smart city and helping businesses succeed in the digital economy.
"We are glad that Google is launching the Hong Kong cloud region, a recognition of Hong Kong's edge and strengths as a data hub. This means businesses in Hong Kong, whether big or small, can leverage the latest, well-established technology infrastructure to expand and succeed in the region and globally."
Asian ambitions
While teasing future Asia Pacific cloud locations, Google has already taken several steps to increase its investment in the region.
Last week the company revealed that it will move to a new office in Tokyo with twice the space for its staff, as well as invest in new ways to use big data, machine learning and cloud services.
"Doubling our presence in Japan means growing our strong engineering teams here," Alphabet CFO Ruth Porat said in a press conference.
The company is also investing in several different submarine cables to link Asia to the US, improving connection times for users of its services.
But Google Cloud is yet to venture into mainland China. While other US giants like AWS, Microsoft and IBM offer their cloud services from data centers in the country (owned by their Chinese partners, as required by law), Google's intentions in China remain unclear.
The company left the country after a 2009 cyberattack, believed to have been orchestrated by state-sponsored hackers. In January 2010, Google wrote in a blog post: "In mid-December, we detected a highly sophisticated and targeted attack on our corporate infrastructure originating from China that resulted in the theft of intellectual property from Google. However, it soon became clear that what at first appeared to be solely a security incident - albeit a significant one - was something quite different."
More recently, Google announced intentions to re-enter the world's largest Internet market.
"I'm committed to engaging more in China," Sundar Pichai, Google's CEO, told Bloomberg earlier this year. "We'll thoughtfully figure out how to engage deeper, and I don't know what the answers are."
The publication reported that Google held several events in China to promote its TensorFlow software library as a way to entice artificial intelligence firms and academics into its ecosystem. Alphabet's private equity arm, CapitalG, is also thought to have started reaching out to Chinese AI companies.
For its cloud division, a lack presence in China has caused issues with customers. Snap, which signed a $2bn cloud deal with Google, opened a Chinese office late last year, but said in a filing that its reliance on Google might make expansion in the country difficult.
"Access to Google, which currently powers our infrastructure, is restricted in China, and we do not know if we will be able to enter the market in a manner acceptable to the Chinese government," the company said.
The situation might have changed since, with Snap signing an additional $1bn cloud deal with AWS.
For now, it appears that Hong Kong is the closest Google's data centers will get to China. In its most recent public comments on the matter, from August 2017, the company said that there were "no plans to bring Google Cloud to China."