Google is building its third data center in Singapore, looking to scale up capacity to meet increasing demand for its services in the region.
The latest multi-story facility will be located in Jurong West, down the road from the company's two existing data centers. It is expected to come online in 2020.
The building will leverage machine learning technology to reduce energy consumption, and recycle 100 percent of its waste.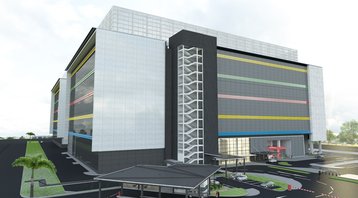 Doubling Google's footprint
In response to a query from DCD, Google said its third data center in Singapore will be built on a plot of land the size of the first and second data centers combined. The company's first facility was launched in 2013, while its second came online in 2017.
The expansion will bring Google's long-term investment in infrastructure in Singapore to USD$850 million.
This pegs the cost of the third facility at $350 million, taking into consideration a previous statement in which the cloud giant had estimated its data center spend at US$500 million for the two data centers in Singapore.
Google declined to specify whether it plans to establish another availability zone in Singapore. The cloud giant launched its third availability zone here earlier this year, offering segregated mechanical and electrical systems for greater reliability. Only one Google Cloud region in the world currently has four zones, located in Iowa, United States.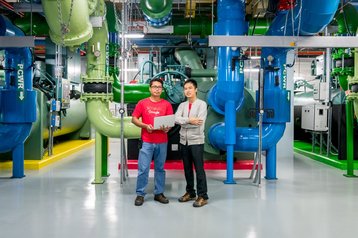 Why Singapore?
Google says its third data center will support rapid growth of digital economy in Asia caused by increasing numbers of Internet users and the proliferation of smartphones. In particular, usage from countries such as Indonesia and India is growing "really quickly."
But why build a third data center in Singapore and not in Indonesia or India, given the far larger population base in those Asia Pacific countries?
"[Google chose Singapore] because of the strategic location here. Having a stable infrastructure in place is something we look out for. It has also been a home for our regional data centers for a long time," Google spokesperson Angeline Leow explained, who pointed out that Singapore also has a highly skilled workforce.
"In the last year alone, we've expanded our cloud infrastructure in Asia. This includes opening Southeast Asia's first Cloud Platform Region in Singapore and launching our third Cloud Platform Zone to provide companies in the region with greater reliability and faster access to our products and services. With our third data centre in Singapore, we hope to build on this momentum to help more businesses benefit from our cloud services," said Rick Harshman, the managing director of Google Cloud in the Asia Pacific and Japan.
According to Google, new customers that have hopped onto its cloud include Singapore Airlines, logistic firm Ninjavan and travel search engine Wego.