Google is trying to repackage its cloud gaming service as a white-label product that will be used by partners like Peloton, Capcom, and Bungie.
After years of little success with its consumer-focused Stadia platform, Business Insider reports that the company hopes to sell the technology to other companies under the new name of Google Stream.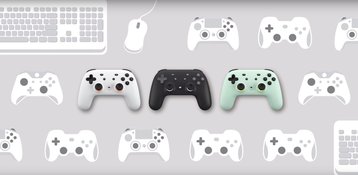 The report lines up with what we have already seen publicly - Google shut down its internal games studios a year ago, and last October partnered with AT&T to stream a 2015 game without Stadia branding.
After a big launch in 2019 and promises of games that were only possible with the power of a data center, Stadia has seen limited success. While the technology has proved successful for those with high Internet speeds relatively close to Google data centers, the business model was a failure. The platform had no exclusive games, with Google shelling out tens of millions to secure ports of games that were easily accessible elsewhere.
Its pricing model also required players to buy games individually, rather than getting them bundled as part of a subscription. It also appeared to receive little support from Google, only coming to Android and Google TV after a year and a half.
Insider reports that Stadia had a target of one million monthly active users by the end of 2020, but missed out on it by 25 percent. Stadia general manager Phil Harrison previously reported to the head of devices and services, Rick Osterloh, but now reports to the VP of subscription services, Jason Rosenthal, an effective demotion for Harrison and the division as a whole.
The focus has shifted from trying to secure large titles for the consumer product and to repackaging the back-end technology for other companies.
Among them is Peloton, the exercise equipment maker, which plans to use Google Stream to support games running on its bikes. The company teased the first of those titles, Lanebreak, last year. It appears to be a relatively simple game, not requiring significant computational power. Peloton ran a closed demo of the game late last year.
However, last week the Wall Street Journal reported that Amazon was considering acquiring the fitness company, something which could imperil any Google cloud deals.
Another potential Google Stream customer is Bungie, the video game developer best known for Halo and Destiny. Bungie and Google had made "considerable" headway on reaching a deal for the developer to launch its own streaming service, Insider reports. But, again, an acquisition could change that. Last week, Sony PlayStation announced it would acquire Bungie for $3.6 billion. PlayStation has its own Now cloud gaming service, and a partnership with rival Microsoft for cloud gaming technology. Google insiders do not know what the acquisition means for them.
Finally, a deal is being discussed with Japanese games publisher Capcom to let players try out demos of games on its website. While Saudi Arabia's 'Public Investment Fund' picked up five percent of Capcom last week, the company is not currently set to be acquired.
But the games industry is in a period of intense M&A activity, which could help decide which companies succeed in building a consumer cloud gaming service. Leading both acquisitions and streaming is Microsoft, which owns both the Xbox gaming brand and the Azure cloud platform.
The company has a beta cloud gaming service as well as a 'Game Pass' subscription that allows access to hundreds of titles at no extra cost, making it closer to a Netflix-style model.
In 2020, the company acquired games publisher ZeniMax/Bethesda for $7.5 billion, giving it ownership of franchises like The Elder Scrolls, Fallout, Doom, and Quake.
Then this year Microsoft sent shockwaves through the games industry by announcing it would acquire publisher Activision Blizzard for $68.7bn, giving it Call of Duty, World of Warcraft, Diablo, Overwatch, and Candy Crush, among others.
The acquisition, which has yet to close, also means that Activision's cloud contracts with Google Cloud are at risk.