Despite lagging behind Amazon Web Services, Microsoft and IBM in market share, Google thinks that its cloud platform could be the largest in just five years.
The prediction came from Google SVP Diane Greene, who was put in charge of the cloud platform in November 2015, when the search giant purchased cloud-based developer platform Bebop for $383 million.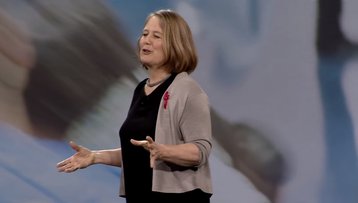 A long road ahead
"I think we have a pretty good shot at being #1 in five years," Greene said at the Forbes CIO Summit in Half Moon Bay, Forbes reports.
"I actually think we have a huge advantage in our data centers, in our infrastructure, availability, security and how we automate things. We just haven't packaged it up perfectly yet."
Since Greene took over, Google has splashed money on acquisitions for the cloud platform - last year, Google Cloud acquired Synergyse, a business built around teaching customers how to use Google cloud apps; in July it bought video streaming company Anvato; and in August it acquired Orbitera, a startup that develops a platform for buying and selling cloud-based software, for over $100m. 
Then, in one of the company's largest acquisitions to date, it bought API management company Apigee for $625 million.
Earlier this year at Google Cloud Next, during a keynote where it revealed it had spent heavily on its cloud service, the company also said it had recently acquired Kaggle, a platform for predictive modeling and analytics competitions.
One area in which Google has sought to differentiate its platform from others is AI, with Greene mentioning DeepMind - the AI group that cut Google's PUE and beat humans at Go - as an example. The company has also invested in its own hardware for machine learning, the Tensor Processing Unit, which it finally gave details on earlier this month.
But, while Google staffs up on enterprise focused employees, builds massive data centers, and funds submarine cables, it is important to note that the rest of the cloud world is not standing still. Amazon Web Services, which enjoyed a significant head start, continues to invest just as heavily in its own expansion and, so far, has shown no sign of slowing down.