Google has opened a new data center in Ireland today to house information on the corporation's European, Middle Eastern and African operations.
Located just west of Dublin in Profile Park, Clondalkin, the €150 million ($168m) facility plans to employ 30 full time workers.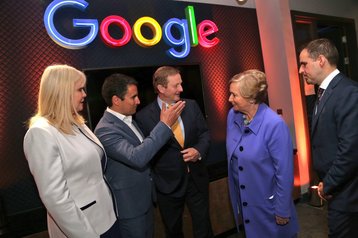 Double Irish
Work on the site - Google's second data center in Ireland - began only last year.
At the time, Google Ireland's head of operations Ronan Harris said: "Ireland… is a wonderful place to base ourselves and do business. Every time we've wanted to expand and grow, we've been able to find the talent and infrastructure that we needed."
Ireland's head of government (Taoiseach) Enda Kenny tweeted: "Delighted to open @google 's new €150m data centre in Clondalkin and mark 6,000 employees in Ireland".
Ireland has become a choice location for many data center operators, most recently with JCD Group planning to build a $225 million center in Cork, and Apple planning (or at least hoping) to build a $950 million Galway data center.