Google has filed two planning applications with Kansas City to begin developing its plot in Northland at Hunt Midwest Business Center.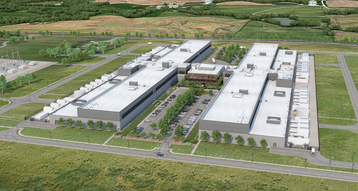 The cloud giant first purchased 78.9 acres in Northland, Kansas City, in 2019, followed by another 236.4 acres in December 2021, at the time stating that it was for a "potential data center."
The land sales and planning applications have been handled through the pseudonym Shalerock LLC, with the latest activity proposing an $8.5 million private grading plan and infrastructure review for a public storm sewer pipe extension between Parvin Road and Arlington Avenue.
No specifics for the development have been shared by Google, but a spokesperson said in a statement: "While we do not have a confirmed timeline for development for the site, we want to ensure that we have the option to further grow, should our business demand it," a phrase which is word for word identical to what was said in 2021.
In 2019, the Port Authority of Kansas City (Port KC) commissioners authorized up to $25 billion in privately backed Chapter 68 bonds, covering a 35-year period, for property tax exemption, and shortly after saw the first land purchase.
In late 2022, Port KC called for contractors to provide preconstruction and construction proposals for Shalerock LLC. According to the applications list, JE Dunn Construction, Olsson and Global Earthwork & Underground are involved in the project.
Also in the Northland area, Meta is developing a data center in the Golden Plains Park. Facebook's parent company committed to spending more than $800 million on developing the one million sq ft (92,900 sqm) data center. That campus is being developed by Diode Ventures. Diode is looking to develop another site known as Rocky Branch Creek Technology Park, also in Northland, Kansas City with up to 270MW of capacity.
Google is also looking to develop data center campuses in Texas and Nebraska, and has started works on another in Mesa, Arizona.