"For several years we have been working on a game streaming platform," Google CEO Sundar Pichai said at the annual Games Developers Conference. "It was probably the worst kept secret in the industry."
After rumors, live trials, and a lot of teasing, Google has announced a new video game streaming service: Stadia.
Stay, dear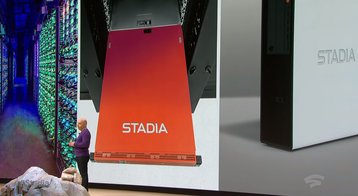 "With Google your games will be immediately discoverable on Chrome, Chromebooks, Chromecasts - we hope to bring it to other devices and browsers," Pichai said.
The platform is aimed at "everyone," the company said - although a fast and stable Internet connection will be required.
In an effort to lower latency, the Stadia controller connects directly via WiFi to the data center, rather than through the device.
Stadia relies heavily on the YouTube gaming community - various YouTube stars were shown in promotional videos, and users will be able to watch a game trailer on YouTube, press a button and start playing the title on Stadia.
50 billion hours of gaming content was watched on YouTube in 2018, the company said. There will be various engagement tools to allow 'YouTube creators' to play with their audience, ensuring that YouTube's large community does the marketing for Google. On top of that, links to play the games will be embeddedable across a variety of platforms like Twitter, Discord and the hugely powerful Google Search.
"We will be handing that extraordinary power of the data center over to you," Google VP and GM Phil Harrison said. He joined the company last year from Microsoft, and previously spent a long time at Sony Computer Entertainment. "With Stadia the data center is your platform, there is no console that limits your ideas."
Majd Bakar, head of Stadia, said that the system "is built on infrastructure no one else has," highlighting the company's large edge network. He added: "Only with Google can you apply the power of data centers to game development," a statement that may be contested by Microsoft, which is planning its own streaming service, and Amazon, which is heavily rumored to be building one.
Google partnered with AMD to build a custom GPU - with 10.7 teraflops of power, which we have coupled with a CPU to create a single Stadia instance. This is more powerful than the PS4 Pro and Xbox One, although again it should be noted that those consoles are several years old, with successors expected in a few years, likely with custom chips of their own.
In some cases, gamers will have access to multiple instances, to allow for more compute-intensive titles, but it is not clear how high it can scale. Scaling is also expected to be easier in multiplayer games, with users hosted in the same data center, rather than across various interconnected devices around the world. Stadia will allow for cross-platform play, if developers enable it, meaning that Stadia gamers may be able to play against PC gamers and, potentially, console gamers (if Microsoft, Sony and Nintendo let them).
Luz Sancho, chairwoman of studio Tequila Works, also showed off Style Transfer, a machine learning tool Google created to allow developers to try different art styles quickly, with the power of AI.
While third party games will of course available on Stadia, Googled has followed the approach of console manufacturers and created its own studios, Stadia Games and Entertainment, led by Jade Raymond, founder of Ubisoft Toronto.
How much the system will cost developers or users was not revealed, but it is expected to roll out to the US, Canada and UK later this year.