Semiconductor foundry GlobalFoundries has appointed Dr Thomas Caulfield as its new CEO, replacing Sanjay Jha.
Caulfield was previously senior vice president and general manager at the company, after joining GlobalFoundries in 2014. Prior to that, he spent 17 years at IBM.
Forged in fire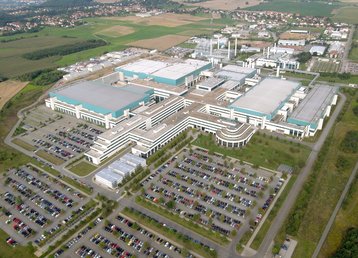 "It has been an incredible four years," said Jha, who headed the company since 2014. Prior to that, he was chairman and chief executive officer of Motorola Mobility, and before that the chief operating officer of Qualcomm.
"We have transformed GF into a trusted, reliable foundry for our global customer base. The acquisition of IBM's microelectronics business has allowed us to independently develop leading-edge technology including 7nm, as well as expand our leadership positions in differentiated businesses such as RF, ASICS and the FDX platform."
The IBM acquisition was an unusual one - due to losses the business was making, IBM actually paid GlobalFoundries $1.5bn to takeover the division. Under GlobalFoundries, the business was instrumental in the development of GF's new 14nm production facility in upstate New York, which was headed by Caulfield.
The incoming CEO said: "I am honored to be given this chance to lead GF at such an exciting time at the company and in our industry. With exciting new customers coming into the market, we have the unique technology portfolio and executional track record to reset the competitive playing field in the rapidly-growing foundry segment. And we will continue to change the industry that is changing the world."
The business began in 2009 out of the divestiture of AMD's manufacturing arm, and grew further with the acquisition of Chartered Semiconductor a year later. It is now majority-owned by the Emirate of Abu Dhabi through its subsidiary the Mubadala Investment Company.
Jha will continue to "work closely" with Mubadala to explore the development and build out of potential future systems businesses, the company said.
Ahmed Yahia Al Idrissi, Mubadala CEO and chairman of the GF Board of Directors, continued: "GF is a strategic asset for the global semiconductor industry and our shareholder. We will continue to invest to differentiate and grow the business and further consolidate the industry through partnerships, in a way that allows us to better serve our customers.
"Sanjay delivered on strategic milestones which set the company on the right path and we would like to thank him for his significant contributions. Tom, with his 25-year track-record of operational excellence and delivering for customers, will take the company to the next level of success."
The second largest pure-play foundry company, after Taiwan Semiconductor Manufacturing Company (TSMC), GlobalFoundries counts AMD, Broadcom, Qualcomm and STMicroelectronics amongst its clients.