European service provider GlobalConnect is offering colocation customers space in modified GRC immersion cooling tanks in its data center in Copenhagen, Denmark.
The operator has four tanks in the facility, and reports a good pipeline of customers, either considering the option or nearly ready to sign. The tanks are modified from the basic GRC design, and GlobalConnect will be offering space in them on its normal contracts.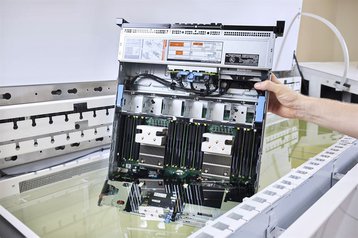 Immersion cooling is widely predicted to be of great importance because it offers more efficient cooling, allowing greater power density while cutting energy bills and improving reliability. However, it is still not widely used outside niche areas, and GlobalConnect believes this is the first time it has been offered to colocation customers in Europe
"One of our data halls in Copenhagen has four tanks, all together as a submerged cooling unit," said Luke Davies, managing director of data centers at GlobalConnect. He predicts the service may also be offered in Stockholm in due course, as well as the company's facility in Oslo if demand takes off.
Although there is no customer equipment in the tanks yet, Davies reports a "healthy pipeline" of interested customers, with one ready to install equipment.
While immersion cooling is widely used for crypto, and is also being pitched for high-performance computing (HPC), Davies reports that more conventional workloads such as AutoCAD are among the workloads being groomed for the tubs, as well as some high-density compute for big data number crunching in advertising and a government agency.
Users will not be expected to share a tank with other customers, said Davies: "I think you could imagine a world in which you would slice the tank up, so to speak. But you would have to resolve the issues of security and access control - and you have to also ask yourself whether it's worth the hassle."
Users will be trained up by GlobalConnect in how to handle and maintain immersed servers or can ask the operator to maintain them in a data-center-as-a-service contract. Users are expected to source their own equipment, either removing fans to prepare it, or else to buy purpose-built servers: "Suppliers like Dell have immersion-cooled server options on their price list," says Davies.
Each tub is roughly the size of a conventional rack, laid on its side, but because it can handle many times the power density of conventional racks, these four tanks have the capacity of half a data hall, Davies estimates. "That's important when you consider real estate.
Although there is not yet a standard price list for immersion cooling, Davies says users will have the same type of contract. As they pay for energy by the kWh, immersion cooling could save them substantially, after the initial investment for the immersion-proof kit, he predicts.
GlobalConnect selected GRC from among others because the company was willing to work with GlobalConnect to make what Davies described as "significant" modifications: "We worked with them quite intensively to change the redundancy set up," ge said says. While GRC normally supplies tanks with a single cooling circuit, GlobalConnect has specified redundant heat exchangers and pumps to eliminate any single point of failure.
"There wasn't the level of redundancy that we would normally provide the customers," he added. "We worked with them to adapt the product."
In the future, Davies plans to connect the tanks to Copenhagen's district heating system, so the waste heat can warm local homes. The Copenhagen facility was already working to get on the heating loop before the immersion tanks arrived, and will be offering its waste heat for free, in what Davies describes as a "win-win".