Software collaboration platform GitHub has stored 6,000 software repositories at Piql's long-term storage data center in Svalbard.
The open source software will be stored at the Arctic World Archive, which uses proprietary film designed to last for 1,000 years.
When the world's in a pickle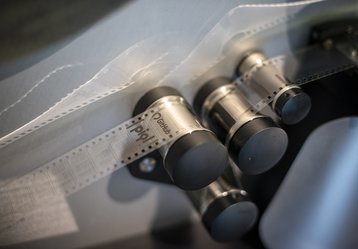 186 reels of piqlFilm were stored in the Arctic Code Vault, inside the wider Archive on July 8. The deposit, which was announced in late 2019, was meant to happen earlier this year - but it, along with a larger deposit event set to be attended by DCD, was delayed due to the coronavirus pandemic.
The Norwegian archipelago of Svalbard has managed to have zero cases of Covid-19 so far by restricting travel to the country, but announced on July 15 that some travel would reopen.
"The code landed in Longyearbyen, a town of a few thousand people on Svalbard, where our boxes were met by a local logistics company and taken into intermediate secure storage overnight," GitHub's director of strategic programs, Julia Metcalf, said in a blog post.
"The next morning, it traveled to the decommissioned coal mine set in the mountain, and then to a chamber deep inside hundreds of meters of permafrost, where the code now resides fulfilling their mission of preserving the world's open source code for over 1,000 years."
Svalbard, the northernmost settlement in the world with a permanent civilian population, has been declared demilitarized by 42 nations, and is covered by a network of disused mines, one of which is home to the Arctic World Archive. Another mine nearby features the Global Seed Vault.
Those mines are surrounded by permafrost, keeping facilities at a low, stable temperature. The Arctic World Archive also stores historical data from European Space Agency, Vatican manuscripts, Siemens documents, copies of Mexico's Independence Act, and more.
GitHub, which was acquired by Microsoft last year, is also using its parent company's Project Silica for long term storage.
"By leveraging recent discoveries in ultrafast laser optics, data is stored in quartz glass, through a process that permanently changes the physical structure of the glass material," Metcalf said.
"Quartz glass is a durable storage media that offers unparalleled data lifetimes of upwards of tens of thousands of years. It is resilient to electromagnetic interference, water, and heat, making it the ideal storage medium for ensuring the world's open source software is forever preserved for future generations."