The server room of Ghana's Ministry of Health headquarters in Accra caught fire on Saturday, completely destroying all the equipment within it, as well as another office.
A security guard tried to open the door when he saw smoke emanating from the server room, but could not as all the entrances were locked and could only be opened by biometric fingerprints - it appears he was not on the list of approved people able to open the doors.
Fast response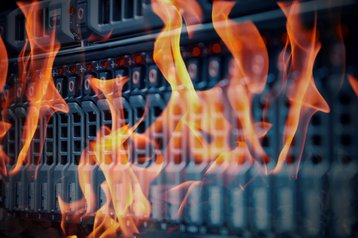 "Having realized that he could not open the doors to the building, he then rushed over to inform the station," the Ministry's Divisional Commander of the Ghana National Fire Service (GNFS), Divisional Officer (DO II), Naomi Ofori-Adubea told The Ghanaian Times, which first reported the news.
The six-member fire team arrived on the scene at about 4:30am, broke the doors down to access the building and brought the fire under control. DOII Ofori-Adubea said that the fast response saved the wider MoH headquarters from being destroyed by the fire.
She added that the ministry should in future leave the keys with the security guard overnight, and use CCTV cameras to monitor night activities to record any potential crimes.
The cause of the fire is not yet known.
While the MoH operated its own on-site server room, a 2013 report on Cloud Computing for Health Information in Africa notes that the MoH hosted the health program 'District Health Information Software 2' in a "a private data center in Accra."