The German Aerospace Center (DLR) has put a new supercomputer into operation.
Launched in 1969, the Deutsches Zentrum für Luft- und Raumfahrt is the national center for aerospace, energy, and transportation research of Germany. It also acts as the German space agency.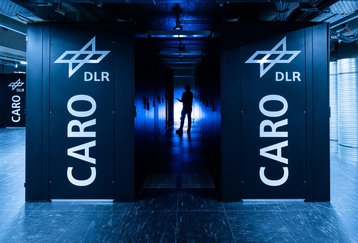 The DLR's new high-performance computer, named CARO (Computer for Advanced Research in Aerospace), was launched this week in Göttingen, in central Germany's Lower Saxony.
The NEC-manufactured machine utilizes AMD Epyc processors and is capable of 3.46 petaflops sustained and a theoretical peak of 5.59 petaflops.
CARO will, among other things, accelerate the introduction of new technologies for more economical, environmentally friendly and safer flying through airflow and wind simulations. CARO can also be used in aerospace and transport research: for example in the area of ​​future space transport or in next-generation trains. Another important field of research is the simulation of wind turbines.
DLR said €10.5 million ($10.7m) was invested in the project. The CARO computing cluster is operated by the Society for Scientific Data Processing in Göttingen (GWDG) in a new computing center in Göttingen in cooperation with the University of Göttingen.
"With CARO we have one of the world's most powerful supercomputers for aerospace. In Göttingen, the computer is at the cradle of aerodynamics, which will also be one of the most important users," said Prof. Anke Kaysser-Pyzalla, Chairwoman of the DLR Executive Board.
CARO is one of two new high-performance computing clusters that DLR is building. The AMD-based sister system CARA in Dresden has been in use since 2020.