General Dynamics IT (GDIT) has won a $152 million supercomputing, cybersecurity, and software contract from the Alabama Supercomputer Authority (ASA).
The contract has a five-year base period with two option years and will see GDIT responsible for provisioning, managing, and operating ASA computer and network systems. This will include supporting the State of Alabama's information technology systems including high-performance computing, enterprise network management, cybersecurity, application development, and hosting in a hybrid multi-cloud environment.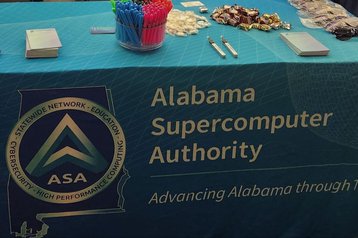 "This contract supports the sustainability of ASA's broadband connectivity and related services to more than 780 educational clients in the state," said Debra Wallace, CEO of ASA. "I am pleased to have the expertise of the GDIT staff in supporting our mission of advancing Alabama through technology."
The ASA was founded in 1985 for the purpose of 'planning, acquiring, developing, administering and operating a state-wide supercomputer and related telecommunication system', and is state-funded. The authority runs HPC for academic and research purposes out of the Alabama Supercomputer Center. The dense memory cluster (DMC) supercomputer has 3,700 CPU cores and 26.1 terabytes of distributed memory. It has a total DMC capacity of 469 teraflops.
The group also operates the Alabama Research and Education Network which provides internet access and supercomputer resources to K-12 public schools, charter schools, community colleges, universities, and public libraries in Alabama.
"This contract will enhance ASA's ability to provide fast, secure, and reliable access to research and education resources across the state of Alabama," said Scott Mack, GDIT vice president and general manager for state and local government. "We have partnered with ASA for nearly 30 years and look forward to continuing to serve the state with innovative technology services."
GDIT also provides disaster recovery, network design, manages desktops, security operations, technical support, and consulting to ASA.
GDIT, a global aerospace and defense company, has been expanding more into supercomputers since its acquisition of CSRA in 2018, a government information technology solutions company. In May 2022, the company was awarded an $89.5m HPC contract for the Environmental Protection Agency. In June, the National Weather Service switched over to a pair of GDIT-provided supercomputers that tripled the computing power at NWS, and In July 2022, GDIT won a contract to operate the National Oceanic and Atmospheric Administration's (NOAA) two new supercomputers.