The Gen-Z Consortium is no more, with the read and write memory semantic protocol group fully consumed by rival CXL Consortium.
CXL will own all of Gen-Z's assets, and member companies will be be contacted about continuing under CXL.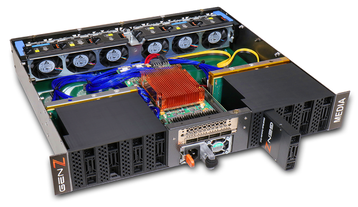 Compute Express Link and Gen-Z are read and write memory semantic protocols focused on low latency sharing of memory and storage resource pools for processing engines like CPUs, GPUs, and FPGAs. CXL focuses on enabling coherent node-level computing, whereas Gen-Z focuses on fabric connectivity at the rack and row level.
The two open-source groups signed a memorandum of understanding to work together in early 2020, and last November tied the knot. The merger has now closed.
Both organizations will focus on CXL as the sole industry standard moving forward, with an eye to transferring Gen-Z work where possible.
CXL was historically more popular with large vendors, notably gaining the support of Intel and IBM, as well as hyperscalers like Facebook, Google, and Microsoft.
In addition to CXL, there is also the CCIX (Cache Coherent Interconnect for Accelerators) and OpenCAPI (Open Coherent Accelerator Processor Interface) consortia.