A joint venture formed by GDS Holdings Limited and CITIC Private Equity Funds Management (CPE Fund) has taken a majority stake in Chinese data center development.
Tenglong IOT Data Technology is building the new BJ13 facility, just east of Beijing.
The unnamed JV has taken an 82 percent equity stake in Tenglong and, by extension, the data center.
GDS will initially own a 58 percent controlling stake, leaving CPE Fund with 42 percent. But, when the data center is complete, the JV will acquire the rest of Tenglong (which itself will also acquire the rest of the land rights) - and then GDS will buy CPE out and control the entire structure.
The whole deal is expected to cost GDS RMB 2.6bn ($370m). Shares in the company rose three percent to $82.46 upon news of the agreement.
Pushing Tongzhou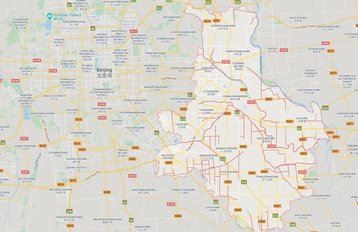 Tenglong has obtained government approval to build the data center in the Tongzhou district of Beijing.
BJ13 will cover 21,000 sq m (226,000 sq ft) and hold a power density greater than 3kW per square meter.
The facility will be completed over two phases: The first 10,500 sq m (113,000 sq ft) portion will be online in early 2022 and the other half will be online in mid-2023.
BJ13 is located approximately 27 kilometers from GDS' BJ1, BJ2, BJ3, and BJ9 data centers in the Yizhuang district and is already gathering interest from prospective hyperscalers.
GDS will assume responsibility for data center construction on a turnkey basis.
In the statement, GDS said the project in Beijing is a rare opportunity due to high demand, tight land supply, and strict regulatory approval criteria.
The Tongzhou district is the new seat of the Beijing Municipal Government, which makes it ideal as a data center hub, the company claim.
In 2018 parts of the municipal government moved into Tongzhou District - the district is already the home of the government's subsidiary administrative center.
Over the last two years, more and more departments have moved their offices to the eastern suburb of Tongzhou.