Savoie Technolac, a sustainable energy hub in the French Auvergne Rhone-Alpes region, is buliding a new carrier-neutral data center. The facility could ultimately be cooled by year-round cold water from the nearby Lac du Bourget.  
'Green business incubator'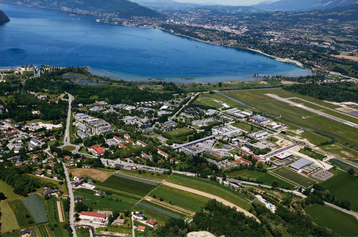 Savoie Technolac is a public joint venture 60 percent funded by the Savoie department council, and the remaining forty percent by both the city of Chambery and an agglomerate of 28 surrounding municipal councils; it brings together industry members, students and researchers involved in sustainable energy development, such as EDF's hydraulic engineering center, the French National Solar Institute and energy consultancy company Energy Pool.
The data center will be built on a 40,900 sq ft (3,800 sq m) stretch of land; the building will span 18,300 sq ft (1,700 sq m) and house 10,200 sq ft (947 sq m) of technical space containing 300 racks, and 8,000 sq ft (743 sq m) of offices.
The facility will host cloud and colocation services, and will be run by an unnamed "national operator," reports Le Dauphiné. Although the physical structure is expected to be built by December this year, the data center will only open its doors in April 2018.
Cool cooling 
Savoie Technolac hopes to connect the facility to a freshwater loop cooling system, which would use water from the bottom of Lac du Bourget (115ft below the surface), which naturally remains at 6ºC (42.8ºF).
The possibility of using lakes as a source of cooling is becoming popular in the region, thanks to the availability of year-round cold water from surrounding mountains. An installation at Lake Geneva serves the city's Nation district, where a number of international organizations are based, and plans are also being considered for installations at the Isère river and the Lac d'Annecy.
The Lac du Bourget plan is undergoing feasibility tests, and it is hoped that construction could begin this year. The data center can be adapted to use it when it is up and running.
Heat extracted from the data center and other industrial systems can be harnessed from water loop system. The warmed water can be boosted to 40ºC (104ºF) using heat pumps and the resulting low-temperature heat can be offered to homes and offices for central heating. It is estimated that the system could provide this low-grade energy at $0.10/kW
The initiative was launched under the B'eeau Lac project (Beautiful lake project – short for Bourget Environnement, Energie, Amenagement et Urbanisme, or Bourget Environment, Energy, Development and Urbanism) by a public joint venture dedicated to local urbanism projects.