France's HPC agency, GENCI, and its National Computing Center for Higher Education, CINES, have announced an upgrade for the Jean Zay supercomputer.
Named after the French politician who was imprisoned by the Vichy government during World War II, the supercomputer was able to reach a peak performance of 14 petaflops when it was deployed by HPE in 2019. The upgrade will see its peak performance double to 28.3 petaflops.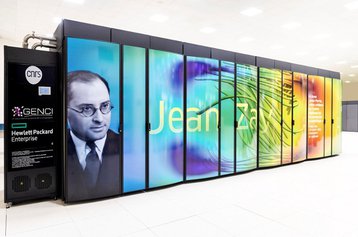 "This extension of Jean Zay strengthens France's position as one of the leading European countries in academic and industrial research in artificial intelligence. This is one of GENCI's key missions, as set out in its strategic plan," said Philippe Lavocat, Chairman and CEO of GENC. "It testifies to the success of the Jean Say supercomputer in the scientific community and the relevance of the response to their needs in AI."
GENCI said there have been more than 700 AI projects on Jean Zay since it came online, including large scale natural language processing (NLP), computer vision, decision support, smart cities, health and medicine, neuroscience, robotics, social sciences, chemistry, particle physics, astrophysics, and climatology.
The original system comprised 1,528 Intel Xeon Scalable nodes and 261 GPU nodes, each with four Nvidia Tesla V100 (32GB) GPUs, totaling 1,044.
The upgrade will see the supercomputer reach a total of 3,152 GPUs, including both Nvidia V100 and Nvidia A100 Tensor Core GPUs, by early 2022. The extension will provide 52 additional HPE Apollo 6500 Gen10 systems each with eight Nvidia A100 (a total of 640 GB of HBM2 memory per server).
IDRIS and the Établissement public d'aménagement Paris-Saclay (EPAPS) will also recycle the waste heat produced by Jean Zay to supply the heat and cold exchange network of the Paris-Saclay urban campus.
Funded by the French Ministry of Higher Education, Research, and Innovation, the extension is planned to be installed in January 2022.
This week also saw HPE announce that it will build a 70 peak petaflops supercomputer for GENCI and France's National Computing Center for Higher Education, CINES. The first of two partitions for the new Adastra system will be operational by spring 2022.