The site of a proposed 2012 data center in Milton Keynes, UK, has been put up for sale by CBRE.
The 'MK Data Vault' data center was originally due to come online in 2013, but after years of delays and despite CBRE itself coming on as a partner for a time, it seems the development never came to anything and the owners have cut their losses.
CBRE is/was offering the freehold to the site, billed as the 'former MK Data Vault site,' but an offering price was not shown. The plot might have already been sold; though still listed as available on CBRE's site, the brochure says bids needed to have been submitted by April 20th.
Despite previous claims of ample power and fiber connectivity, the real estate firm isn't promoting the site as a potential data center.
"The location makes it ideal as a logistics HQ center with a wide distribution reach across the UK and Europe and within easy reach of Milton Keynes central station with frequent services to London Euston," said CBRE.
DCD has reached out to CBRE for more information regarding the site and sale, as well as its partnership with the previous developers.
The end of the MK Data Vault saga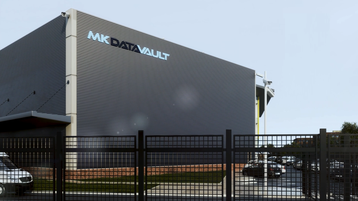 The sale marks a new phase of the site's storied history over the last 30 years.
The 2.75-hectare site in Milton Keynes was previously a 170,000 sq ft (15,800 sqm) warehouse known as Maxwell House, which housed the Oyez print works and was owned by media baron Robert Maxwell.
After his death in 1991, it was revealed that Maxwell had illegally used hundreds of millions of pounds from his companies' pension funds to keep the Mirror Group from bankruptcy. This, along with numerous other debts, led to the Maxwell companies filing for bankruptcy protection in 1992.
Assets were soon sold off, and at some point, the site was acquired by commercial real estate investment group PMB Holdings.
Then, in 2012, PMB announced plans for a £35 million (~$48 million) data center project on the site. The 240,000 sq ft (22,300 sqm), 29MW facility was to be branded the MK DataVault and sit across up to five buildings. At the time, PMB said it wanted to build a portfolio of data centers and was looking to develop other sites in Birmingham and East London, though it seems none ever came to fruition.
The development was due to be ready in 2013, but nothing was heard again for a number of years and little beyond the demolition of the previous building had seemingly gone ahead in the intervening period.
In 2019, after years of delays and little development, the project seemed to be rekindled. PMB announced it was partnering with CBRE, which said at the time the data center would be operational in as little as 12 months. Planning permission granted in 2018 suggested the companies were planning one large two-story building for the site.
However, once again it seems little, if any, development has gone on at the site since, and now the plot is being sold off. CBRE's brochure says there is a data room on-site, but Google Street View images from November 2020 show no visible structures.
Both PMB and MK Datavault Ltd are listed on Companies House as still active.