Owners of a former turkey farm in Northern Virginia's Leesburg are looking to rezone part of the land, possibly for a data center.
BizJournal reports that Orme Farm LLC, which owns around 376 acres across nine parcels southwest of Leesburg Executive Airport in Virginia's Loudoun County, is working with an affiliate of Fairfax-based real estate firm Van Metre Cos. to rezone around 12 acres on the east side of Dulles Greenway.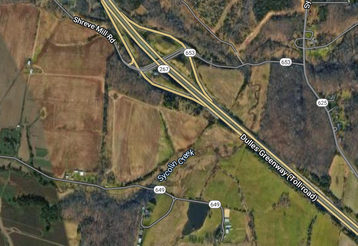 The rezoning would be to an industrial land use category that would allow data center development by right, along with office or manufacturing uses.
Van Metre isn't the property's contract buyer but is rather advising the owner and managing the entitlement process, Roy Barnett, Van Metre's president of acquisition, planning, and development, told the publication.
BJ notes the site is outside the area where Dominion has said there is a capacity crunch while it installs new power lines. It is also directly south of a Microsoft campus and close to Google and Compass sites.
The original intent was to rezone the lot east of the highway for a 110,000 square foot (10,200 sqm) distribution, flex industrial or warehousing facility, but that fell through because the east-of-the-Greenway lot would lose immediate access to the highway. Orme Farm still wants to rezone the property, even without that access. The filing suggests a data center as one possible option, though doesn't commit to it specifically.
The land was previously the site of Greenfield Farms, one of the largest turkey farms in the US. During the 1940s and 1950s, it reportedly had some 20,000 birds. Founded by Edgar J. Orme and his wife Nancy, the farm was one of the last in the area dedicated to turkeys, but had moved to raising pigs by the 1960s.
Much of the rest of the land, which is still owned by the Orme family, is earmarked for potential residential development. Up to 625 single-family homes and "live/work units" could be developed on around 167 acres.