Boston Properties Inc. has sold the Virginia-95 Business Park to commercial real estate investment and management firm Finmarc Management Inc.
Local press including Globe Street and BiZJournal report that Boston Properties has sold a portfolio of 11 flex/office, industrial and data center buildings in Fairfax County's Springfield, Virginia, to Finmarc for $127.5 million.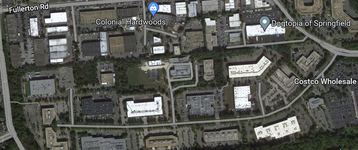 The 740,000-square-foot portfolio comprises single-story and two-story assets that range from 27,000 square feet to 105,000 square feet across around 127 acres situated along Boston Boulevard, Corporate Court, and Grainger Court. The properties are 74 percent occupied and six of the buildings are 100 percent leased. Tenants of the portfolio include ADT Security Systems, Avaya, SAIC, the Vomela Cos. and the United States General Service Administration.
"This acquisition continues Finmarc's long-term investment strategy of identifying and purchasing institutional-quality assets with a compelling value-add component in suburban submarkets that demonstrate long-term strength and viability," said Finmarc co-founder and principal David Fink. "We intend to grow the net operating income by aggressively marketing the available space to achieve 100% occupancy of the portfolio, as well as elevating rents to existing market rates. We will additionally build value by implementing proven asset management systems and protocols that maximize operational efficiencies."
Boston Properties was the original owner of the 11 buildings, having developed them for the most part in the 1980s. The company had a "great run" in the Virginia 95 Business Park, but the unloaded assets no longer fit within its overall portfolio, which focuses mostly on commercial office, Jake Stroman, an executive vice president with BXP told BizJournal. BXP will likely put the proceeds toward development projects, he added.
How much of the park includes data center space is unclear, though the site hosts a US Customs Service Data Center. Previous reports suggest Boston Properties had been considering selling parts of the site from 2016.
"We acquired this portfolio at below replacement cost and the in-place tenancy, which includes several federal government entities, will generate steady cash flow," said Finmarc principal Neil Markus. "We believe well-located and best-in-class flex/office and industrial buildings situated in the outer ring suburbs will continue to flourish and we remain extremely confident in the long-term economic fundamentals of the Springfield and Northern Virginia submarket."
Cushman & Wakefield's William Collins and Eric Berkman represented the seller in the transaction and Finmarc Management represented itself. Cushman & Wakefield's Michael Zelin and Marshall Scanlon also helped procure the financing. Kelley Drye & Warren's Joe Hoffman and Aaron Rosenfeld provided legal services, and Met Cap Advisors' Cliff Mendelson served as a consultant in securing the debt.