The Federal Communications Commission (FCC) has confirmed that it's on track to release its US broadband map this month.
It will be the first time that such a map has been available, and will detail precise broadband availability for consumers & businesses across the country.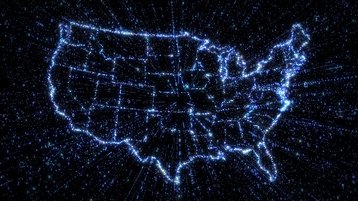 In a statement, the FCC has confirmed that a pre-production draft of new broadband maps will be released on November 18.
It's the first release of the map, which is required by the Broadband Data Act, with the map to be continuously altered to improve any data that is submitted by providers.
"When the first draft is released, it will provide a far more accurate picture of broadband availability in the United States than our old maps ever did," said FCC chairwoman Jessica Rosenworcel, back in September.
The maps have been sought after for some time, with prior maps being based on Form 477, which has been criticized as providing inaccurate data as it allows ISPs to count an entire census block, even if only a fraction of this area is served by the ISP.
The first draft will be based on broadband availability from data submitted by providers during the initial Broadband Data Collection filing window, up until June 30, 2022.
Once published, the draft maps will display location level information on broadband availability throughout the country, which will allow people to search for their address, and review and dispute the services reported by providers at their location.
Publication of the map will invite a public challenge with operators, government, and other interested parties able to provide feedback on the maps, adds the FCC, in a bid to continually improve and refine the broadband availability data relied upon by the FCC.
Once the draft maps launch, individuals will also be able to submit challenges, or request corrections.