The Federal Communications Commission (FCC) has set out to release a detailed US broadband map for the first time.
This map will be based on data collected from Internet service providers across the country, and is set to provide precise broadband availability for consumers & businesses across the country.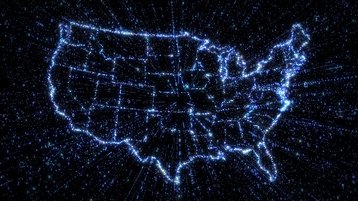 A first draft is expected to be released in November, and will feature information collated from ISPs across all 50 states. Data has been collected through email, and direct phone conversations said FCC chairwoman Jessica Rosenworcel.
"When the first draft is released, it will provide a far more accurate picture of broadband availability in the United States than our old maps ever did," said Rosenworcel, who confirms these maps will continuously be updated.
The FCC has long sought to draw up more reliable broadband maps with current maps based on the Form 477 data collection. However, this has been criticized as providing inaccurate data as it allows ISPs to count an entire census block, even if only a fraction of this area is served by the ISP.
Last year US President Joe Biden pledged $65 billion to upgrade broadband across the country, as part of the $1.2 trillion Infrastructure Investment and Jobs Act.
The biggest chunk of broadband investment is $42.45bn for the Broadband Equity, Access, and Deployment program, which will be used to help create the maps.
"Broadband providers are constantly updating and expanding their networks. We have set up a process to make sure our maps will reflect these changes and yield more precise data over time. We have also built a process in which state, local and tribal governments, other third parties, and, perhaps most importantly, consumers, will be able to give us feedback on the maps and help us continually improve and refine the data we receive from providers," added Rosenworcel.