Social media giant Facebook has started construction on the final phase of its Fort Worth, Texas data center in an investment that will take total spending on the data center campus to $1.5 billion.
The new $200 million addition to Facebook's Fort Worth data center will increase the capacity of the company's 'cold storage' facilities for posts, photos, and videos that are rarely accessed by users. When it comes online in 2022, the cold storage facility will be one of only four such facilities the company operates around the world, supporting the company's 2.74 billion active users, according to the latest figures.
No escape from your past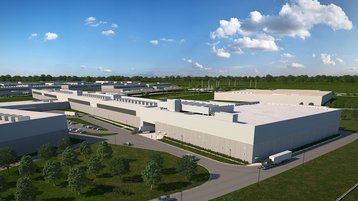 "It is designed to preserve these memories in a sustainable and efficient way with servers that are powered on as needed," the media and advertising company said in a statement.
"That means that when you want to share your #tbt [throwback] photos they may be pulled from a facility like this."
The company had originally planned to build three data center buildings on the campus, but acquired further land in the area and upped its building plans to five in 2017.
"Once completed, the more than 2.6 million square feet campus will represent an investment of more than $1.5 billion," the company said. "Today, we have more than 150 people working at the data center. It is LEED Gold certified and supported by 100 percent renewable energy from right here in Texas."
That renewable energy, totaling around 200 megawatts of wind power in a project part-financed by Facebook, is backed-up by on-site diesel generators, according to the construction company involved in the campus development.
Following completion of the work, the campus will employ around 200 staff, including both Facebook employees and contractors.
The required paperwork for the expansion was filed with state authorities in September. North Texas is home to one of the largest concentrations of data centers in the US, while Facebook is one of the largest operators in the 28th state of the US.