Facebook has officially opened the first phase of its data center in Fort Worth, Texas, as it took steps to follow through on expansion plans revealed last year.
The social network started work on the site in July 2015, originally conceiving a campus consisting of three buildings totaling 750,000 sq ft (70,000 sq m). Then, at the end of last year, Facebook increased its investment in the project to roughly $1 billion, promising to build five buildings totaling 2.5 million sq ft (230,000 sq m). With two data centers operational, it has now filed for permits to spend nearly $267 million on a third facility.
The social network's network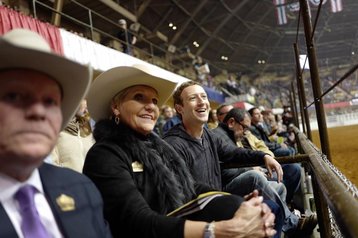 The early plans for the second phase, originally spotted by the Dallas Business Journal, include 25,406 sq ft (2,360 sq m) of office space, a conferencing center and break room, space for mechanical equipment and a 219,989 sq ft (20,438 sq m) data hall.
Thomas Furlong, VP of infrastructure at Facebook, told the publication: "Three buildings has always been our original concept, but we saw ourselves growing. We went ahead and grabbed enough adjacent land to build five buildings when we saw the additional need."
The facilities are powered by renewable energy (through power purchase agreements) obtained from a pool of 200 MW of new wind power that the company said it brought to the Texas grid, by working with Citigroup Energy, Alterra Power Corporation and Starwood Energy Group.
The opening comes as Facebook continues to grow as a social network. In its latest quarterly earnings report, out this week, the company said that it had 1.94 billion monthly users, 1.28 billion of which were daily users.
"As people share more video, as we explore more things like augmented reality, and as we build more tools to keep our community safe, we're going to keep investing aggressively in the infrastructure we need to grow and serve our community," Facebook CEO Mark Zuckerberg said in an earnings call.
"That's why we announced that our next two new data centers will be built in Odense, Denmark and Papillion, Nebraska."
In the same call, CFO David Wehner revealed that "Q1 capital expenditures were approximately $1.3 billion, driven by investments in data centers, servers, office facilities and network infrastructure."