Facebook has started building the data center in County Meath, Ireland that was approved last August. It will be the social giant's second data center in Europe.
The $220 million Clonee Data Center will be powered by renewable energy and use Facebook's switch, storage and server designs, and should be operational by late 2017, or early 2018. It will join Facebook's existing European data center, which has been operating in Luleå in Sweden since 2013, and will be its sixth site in the world.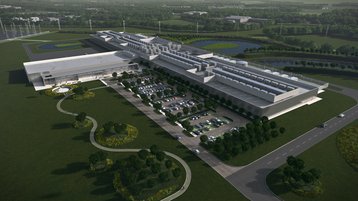 Salty air 
"I'm proud to share that Facebook's sixth data center is now under construction in Clonee, Ireland, said an update from Facebook CEO Mark Zuckerberg. "We're glad to be investing in Ireland, to become a part of the Clonee community, and to continue building the massive infrastructure that connects our global community."
Details of the project first emerged back in June 2015, in Facebook's planning application which said the facility, a 30 minute drive from Dublin, would comprise eight data halls in two buildings, and could consume up to 72MW of power.
The whole site is 200 acres, and the total plan could take a decade to fill up. Phase one will deliver two buildings with a gross floor area of 50,800 square meters, including eight data halls and office space. Phase two will add another building with four more data halls. The entire campus is expected to employ around 100 staff – something that suggests that, just like the facility in Luleå, it will be highly automatized.
The Clonee Data Center, like Luleå, will use outside air for cooling, but Zuckerberg added a small detail: "Because this is near the Irish Sea we'll be using an indirect air cooling process to filter the salt from the air."  
"Clonee will be packed full of cutting-edge technology, making it one of the most advanced, efficient and sustainable data centers in the world," said Tom Furlong, vice president of infrastructure on a Facebook news post. "All the racks, servers, and other components have been designed and built from scratch as part of the Open Compute Project, an industry-wide coalition of companies dedicated to creating energy- and cost-efficient infrastructure solutions and sharing them as open source."
Ireland is a popular location for data centers, with Microsoft recently asking for permission to build its fifth data center in  West Dublin, Amazon expanding its data centers in the country, and Apple planning to spend $930 million (€850m) on a massive data center in a forest in Galloway.