Facebook has signed a 160MW power purchase agreement to power its data centers in Virginia with renewable energy.
D. E. Shaw Renewable Investments (DESRI) this week announced the social network giant had signed a deal to invest in the Chester Solar project in Virginia, developed by Torch Clean Energy.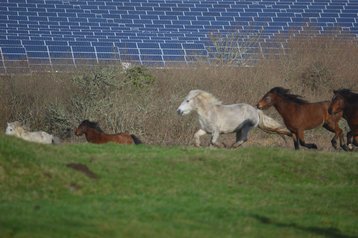 The solar facility will support Facebook's data centers in the region, including the Henrico Data Center located in nearby Eastern Henrico County.
"The DESRI team is pleased to continue our strong relationship with Facebook, which, with the addition of Chester Solar, now totals over 650 MWac of contracted and operational clean power projects across the country," said Hy Martin, chief development officer of DESRI.
DESRI develops and operates renewable energy assets in the US; its portfolio of current and in-development projects includes more than 50 solar and wind projects totaling more than 6GW of aggregate capacity. DESRI and Facebook have previously signed PPAs for solar projects in Utah totaling 155MWac.
"We are excited to partner with DESRI once again to bring new solar energy to the grid," said Urvi Parekh, head of renewable energy at Facebook. "This project will help us continue to support our global operations with 100 percent renewable energy and bring new investment and jobs to the state of Virginia."
Torch Clean Energy is a renewable energy and battery storage developer; it has more than 1,500MW of solar projects under development throughout the US.
"Torch is proud to continue its strong partnership with DESRI and support Facebook's renewable energy goals through Chester's continued development," said Jon Kilberg, president of Torch. "This project represents important economic investments in Virginia which will significantly increase the amount of carbon-free solar energy produced by the state."
Facebook previously signed a 61.6MW solar PPA in Virginia with Apex Clean Energy for its 80MW Altavista solar farm in the state.
As of 2020, Facebook says its operations were supported by 100 percent renewable energy and the company has reached net-zero emissions. The company says it has contracts in place for more than 6GW of wind and solar energy across 18 states and five countries, with all 63+ projects located on the same electrical grids as the data centers they support.
"We've reached net-zero emissions for our operations and we're one of the largest buyers of renewable energy in the world - resulting in $8 billion invested in 63 wind and solar projects around the world, creating tens of thousands of jobs," CEO Mark Zuckerberg said in a post on his site. "Thanks to our team and partners who helped reach this goal!"