Exa Infrastructure and Colt Technology Services will upgrade fiber infrastructure along the Channel Tunnel connecting England with France.
The two telecom infrastructure companies will combine to upgrade their cables on either side of the tunnel to offer customers a modern G.652D cable route from London to Paris.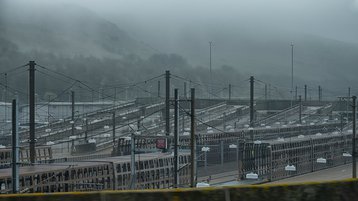 For Colt, it comes around 18 months after the company signed a 25-year contract with railway firm Getlink, the firm which manages and operates the infrastructure of the tunnel.
Exa confirmed it will upgrade 66km of undersea network with 288 fibers of the latest technology G.652D optical cable.
The timing of the fiber upgrades is critical given the Channel Tunnel was opened in May 1994, meaning that the contracts to install fiber in 1998 are now outdated.
The Channel Tunnel connects London with Paris, but also offers routing flexibility to Amsterdam and Frankfurt.
Exa Infrastructure VP network investments Steve Roberts said: "This is an important industry collaboration to meet the growing digital demand we are seeing across Europe and beyond. The Channel Tunnel forms a key part of Exa's strategy to provide our clients with a choice of three scalable and fully diverse dark routes between the UK and Europe."
Last year, Exa also announced it was commissioning a new fiber optic network link between London to Paris, which sends data on a roundtrip of just 5.5 milliseconds.
This network link is one of 96 such pairs on the 2,400Tbps capacity CrossChannel subsea cable owned by Crosslake Fibre, which became ready for service in December 2021.
Exa Infrastructure was only launched in 2021 following I Squared Capital's acquisition of GTT's infrastructure business. The company owns 112,000km of fiber network across 32 countries, while its network connects 300 cities and offers 14 Tier III-equivalent data centers, with sub-sea routes that include three transatlantic cables.