Europe's first exascale supercomputer will feature 24,000 Nvidia GH200 Superchips.
The Jupiter supercomputer, to be hosted at the Forschungszentrum Jülich facility in Germany, is set to be built by Atos' Eviden and ParTec.
Using a BullSequana XH3000 liquid-cooled architecture, the system is expected to develop AI models for climate and weather research, material science, drug discovery, industrial engineering, and quantum computing.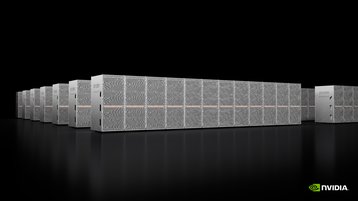 Jupiter will be split into two modules - a general purpose 'Cluster Module' and a 'Booster Module.' The Cluster will use the SiPearl Rhea processor, based on Arm's Neoverse V1 CPU design.
The Booster will be made of the Superchips, which combine Nvidia's Arm-based CPU with its Hopper-based GPU. The quad GH200 features 288 Arm Neoverse cores capable of achieving 16 petaflops of AI performance using up to 2.3 terabytes of high-speed memory. Four GH200 processors are networked through an NVLink connection.
The 24,000 Superchips are then interconnected with the Nvidia Quantum-2 InfiniBand networking platform.
Nvidia claims that Jupiter will deliver 90 exaflops of performance for AI training, and one exaflops of high performance computing (Linpack) performance, while consuming 18.2MW of power.
"At the heart of Jupiter is Nvidia's accelerated computing platform, making it a groundbreaking system that will revolutionize scientific research," said Thomas Lippert, director of the Jülich Supercomputing Centre.
"Jupiter combines exascale AI and exascale HPC with the world's best AI software ecosystem to boost the training of foundational models to new heights."
More in IT Hardware & Semiconductors