The European Organisation for the Exploitation of Meteorological Satellites (EUMETSAT) has inaugurated a new satellite ground station in Leuk, in the Valais area of Switzerland.
Founded in 1986, EUMETSAT is an operational satellite agency for monitoring weather, climate, and the environment from space, with 30 member states sharing data and costs. It operates a number of meteorological satellites and supplies the data to National Meteorological Services.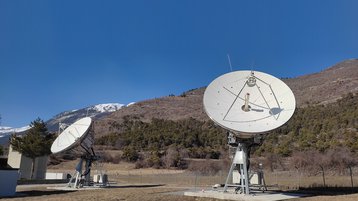 The new site in Leuk is a Mission Data Acquisition Facility (MDAF) for the upcoming Meteosat Third Generation (MTG) weather satellite system; three 6.5-meter antennas at Leuk will receive meteorological data via the KA band, which it will forward to EUMETSAT headquarters in Darmstadt, Germany. The other MDAF will be located in Lario, Italy.
The first MTG satellite will be launched into orbit in late 2022. The new system will see the launch of a total of six new geostationary satellites that will provide coverage of weather and climate activity across Europe and Africa.
Marco Gaia, the head of MeteoSwiss Regional Centre South, Switzerland's national weather and climate service, said the benefit of having two ground stations collecting satellite data is to decrease the probability of bad weather disturbing both antennas simultaneously.
"I feel excited by this inauguration because it is an opportunity to remind people how important international cooperation is for meteorology and how important it is for Switzerland, one of EUMETSAT's original member states, to be a part of this. International cooperation has made all of the invaluable Meteosat satellites possible," he said.
EUMETSAT operates the geostationary satellites Meteosat -9, -10, and -11 over Europe and Africa, and Meteosat-8 over the Indian Ocean. It also operates two Metop polar-orbiting satellites as part of the Initial Joint Polar System (IJPS) with the US National Oceanic and Atmospheric Administration (NOAA), and is a partner in the cooperative sea level monitoring Jason missions.
It operates ground segments in Fucino and Lario, Italy; Cheia, Romani; and Svalbard, Norway.