The European Commission has drafted plans to block "politically-motivated" foreign investment, after Germany, France and Italy turned to the EU body for help against takeovers that these countries believe could harm Europe's strategic interests.
In a document seen by Reuters, the proposal could give the EU the power to block "investments in the EU of strategic importance both from an economic and security perspective."
Takeover gets a makeover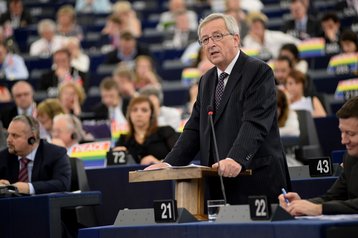 The European Commission's industry department drafted the paper, which makes several references to China - one example of an unwanted deal has a company receiving funds from the Chinese government to buy a European company as part of a "strategic penetration of the EU market."
Industries that could be affected include defense, transport infrastructure and critical and cutting-edge technology sectors. Last year, Chinese investment in data center operator Global Switch drew criticism from some British politicians over security concerns.
Other recent takeovers of note include state-owned China Huaxin's purchase of Alcatel-Lucent's enterprise division, and state-owned CITIC Telecom International CPC's purchase of Linx Telecommunications.
The EU's ability to block deals could also extend to takeovers of companies by European subsidiaries of foreign firms, as well as cases of "infiltration of the management with individuals from non-EU countries" who could access vital data and technology.
The plan requires the approval of all European Commission departments before being adopted by EU states and the European Parliament. Should it be approved, the draft gives individual states the right to allow or deny takeovers after an EU ruling.
The draft also includes a more aggressive option - the creation of an EU agency that would focus on examining foreign investment. But the proposal notes that this approach could cause anti-EU sentiment if it damaged EU companies' growth prospects.
The EU has often been forced to balance the need to encourage outside investment, and the wish to foster large domestic corporations that are not owned by foreign nations.
2015 saw the European Commission hold a 'meet-and-greet' between executives from Chinese and European companies across the transport, telecoms and digital sectors. The Commission used the event to drum up capital for its €315 billion ($336bn) investment plan, the European Fund for Strategic Investments.
In 2016, China's premier Li Keqiang announced that the country will make an initial investment of €2 billion ($2.13bn) into the fund, with hopes that this could rise to €10bn. China will have no control over where the money goes, something that reportedly took months of negotiations -  Chinese officials told Reuters that the money was originally offered on the basis that it would be spent on technology infrastructure projects involving Chinese companies in Europe, such as Huawei.
Instead, the money will be controlled by the European Commission and the European Investment Bank.