Equinix has opened a new US$160 million data center in Sydney.
Its eighth data center in the city, the new facility is also the colocation and interconnection company's largest in Australia.
Its largest down under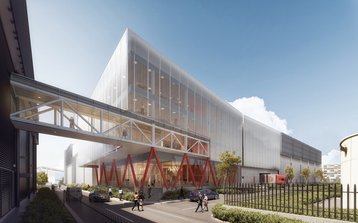 Equinix SY5 is located in the suburb of Alexandria, about four kilometers away from Sydney's central business district. It currently offers a capacity of 1,825 cabinets, though this will go up to 9,225 cabinets when fully built-up. The facility has 25,000 sq m (270,000 sq ft) of colocation space.
SY5 is adjacent to SY4 - which was doubled from 1,500 to 3,000 cabinets last year - with direct physical access between the buildings via a secure link bridge for a physical campus extension between the two sites, says Equinix.
As we reported earlier this year, Equinix SY5 will be connected to various submarine cables such as the Southern Cross Trans-Pacific telecommunications network. This submarine cable links Australia to Guam, as well as other cables leading to New Zealand, Singapore, and the US.
The opening of SY5 gives Equinix a national footprint of 16 data centers across Sydney, Melbourne, Perth, Canberra, Adelaide, and Brisbane in Australia.
SY5 is part of Equinix's promised investment of more than US$535 million for 11 new-build or expansion projects opening in 2019 across Asia-Pacific. The projects are in Hong Kong, Melbourne, Perth, Osaka, Seoul, Shanghai, Sydney, Singapore, and Tokyo.
Jeremy Deutsch, the president of Equinix in the Asia-Pacific, said: "Expansions of our platform and innovations of our technology make us a trusted advisor for our customers to help accelerate their digital transformation journeys. I look forward to seeing Equinix continue our growth in Australia as part of our expansion plans in the region."