Equinix has continued its expansion into bare metal services, adding new chips and an AI framework from Nvidia to its Equinix Metal offering.
The Metal infrastructure as a service (IaaS) service, which provides quickly configured bare metal servers and storage in Equinix data centers, now includes the latest processors from AMD, Ampere and Intel, as well as Nutanix cloud integration and full-stack AI acceleration from Nvidia. There are also six new Metal locations promised.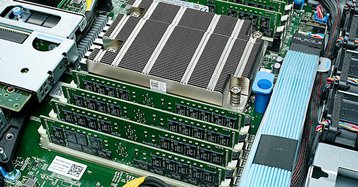 Infrastructure as a service is predicted by Gartner to grow fast, from around ten percent of newly-procured computing in 2021, to 40 percent in 2025. Users in colocation spaces are increasingly turning to the colo providers or other partners to offer hardware on demand, alongside cloud-based capacity.
Metal, based on Equinix's acquisition of bare-metal provider Packet, was launched in late 2020. Initially launched in Amsterdam, New York, Silicon Valley, and Washington DC, it is now available in 18 metros in the US, Europe, and Asia. Today's announcement adds six more locations - Atlanta, Montreal, Helsinki, Stockholm, Melbourne, and Osaka.
The service offers on-demand hardware, with popular DevOps tools and a Kubernetes ecosystem, so customers can deploy and scale applications alongside on-ramps to cloud providers who are also located in the same premises in many cases. Equinix cites cybersecurity company Human, and video game company Super League Gaming, as early customers. It also has the Solana Foundation doing blockchain on the service.
Equinix today promises to offer processors including 3rd Gen AMD Epyc, Ampere's Arm-based Altra, and Intel Ice Lake chipsets, which are due on the market in early 2022. The colo company says Metal will include Gen3 server configurations designed for common workloads. There will also be optimized configurations for specialized workloads like AI training or inference. Certified operating systems include Ubuntu, Debian, FreeBSD, NixOS, Talos, Alpine Linux, Alma Linux, Rocky Linux, and VyOS.
The service also offers Nvdia's LaunchPad, a stack that offers instant access to AI infrastructure. This will be available in nine of Equinix's Metal data centers.
With Nutanix Cloud Platform, Metal will integrate public and private clouds to offer a whole hybrid multi-cloud on demand. This is currently a trial program before full availability.
"As the world's largest colocation provider, Equinix delivers foundational infrastructure across clouds and to the edge, interconnecting them all," said Zac Smith, Managing Director, Equinix Metal.