An environmental group has protested against two data centers that Interxion is planning to build in Dublin - at a time when the company appears to be pausing some of its future developments.
The group has lodged a planning appeal with An Bord Pleanála (ABP) against two data centers that have received council approval, to be built in Profile Park, Clondalkin, Co Dublin, according to a report by The Journal. Meanwhile, since applying to build these facilities, Interxion, a subsidiary of Digital Realty, has signaled that it is pausing some of its projects in Dublin, given the area's much-publicized energy crisis.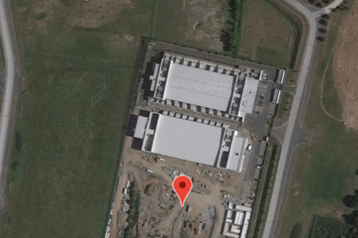 DCD has contacted Interxion to check that the contested development is currently going forward.
The appeal has been filed at ABP by John Conway and Louth Environmental Group, an organization which was active around ten years ago. The limited company Louth Envronmental Group was dissolved in 2013.
Digital Realty-owned Interxion filed for permission to build two 20MW data centers, DUB15 and DUB16, next to its existing facilities in Profile Park, Clondalkin, in August 2021. Despite opposition from some local councilors, it was approved by the council on 2 August 2022.
However, during the intervening time, there has been mounting concern over energy consumption of the data center sector in the area, leading to an effective moratorium on future projects in the Dublin area.
The proposal would involve removing an unused wastewater treatment system and building two two-story data centers. The data centers were proposed by Digital Netherlands VIII B. V., a subsidiary of Interxion's parent, Digital Realty. The proposals also include a gas-powered generator on the site to provide backup electricity to the two data centers.
The appeal, from an environmental group based in Louth, says that the area already has a "disproportionate" number of data centers, and argues that the facilities' water usage could "divert a valuable resource away from the local community, a situation which is likely to get worse as water scarcity becomes more of a problem and population increases."
EirGrid, the Irish electricity grid operator, has previously warned that excessive demand by data centers could stress the area's electricity supply, leading to the announcement that future facilities won't be approved in the Dublin area until at least 2028.
In May 2022, Seamus Dunne, MD of Interxion's Ireland operations, revealed that the company was pausing a $300 million expansion plan in Dublin due to the Eirgrid moratorium on new facilities. He was referring to a proposal to build on eight acres of land in Dublin, which Interxion bought in 2022, after the proposal to expand in Clondalkin.
This plot seems to have been earmarked for more facilities after DUB15 and DUB16. In May, Dunne said the company was going through with the purchase even though building on it looked unlikely at the moment: "We had already committed to buying the land [for data center expansion] before the moratorium came into being and so we have little choice but to play the long game with it," he told Ireland's Business Post.
Meanwhile, the ban on future data centers has been contested by Echelon DC in a legal challenge to South Dublin council