Singaporean data center firm Empyrion DC has acquired Dodid Pte. Ltd. and its 12.5MW data center in Singapore.
Dodid was set up in 2016 and launched the data center in 2018. The Tier III-certified facility on Tagore Lane is a converted industrial building and offers around 10,500 sqm (113,000 sq ft) of space. Though terms of the acquisition weren't shared, W Media reports the deal was valued at around S$200 million (US$146.2m).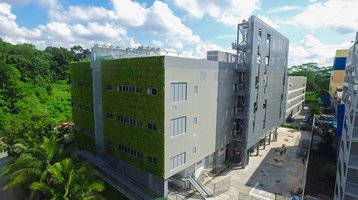 Wholly owned by funds managed by Seraya Partners, Singapore-based Empyrion is a new company registered last year. Empyrion says it has a 'project footprint spanning five of Asia's most strategic data center markets' but doesn't provide details. This is seemingly the company's first data center.
Seraya is an Asia-focused fund manager investing in hyperscale data centers, renewables, and energy transition opportunities; there is very little about the company online, and this too seems to be its first data center investment.
"Following the acquisition, Seraya and Empyrion operating teams will work closely to launch cutting-edge high-power density hyper-scale DC services, deploy smart energy management solutions, and leverage available green renewable energy to reduce carbon footprint," Seraya said in a post announcing the news.
"Heartfelt appreciation to Dodid's Data Centre team for the hard work and dedication. You guys made it happen!" Boyinton Low, head of data center facility operations & engineering at Dodid, said on LinkedIn.
Seraya is led by Ivan Chern, who was previously managing director at RRJ Capital. Other members of Seraya have had previous roles at various energy and investment firms, including I Squared Capital. Dodid is led by Christopher Han. Empyrion has no staff listed on LinkedIn.
Update: A spokesperson for Seraya & Empyrion has confirmed the companies partnered with Malaysian conglomerate YTL Corp YTL for the Dodid facility: "Empyrion DC, together with Seraya Partners, originated and led the investment in Dodid. YTL participated as a co-investor alongside Empyrion in the Dodid investment."
YTL is planning a 500MW data center campus in the Iskandar region of Johor, and work is underway to expand YTL Group's existing 500-rack, 5MW, single-story data center in Sentul, Kuala Lumpur. The company said it aims to develop data center campuses across Southeast Asian countries including Thailand, Philippines, Indonesia, and Vietnam.
On its site, YTL Data Center said it acquired the 12.5MW Dodid data center in Singapore in December 2021.