A federal judge this week ruled that Emerson owes BladeRoom $77.4 million for conspiring with Facebook to win a $200m contract to build a data center for the social media company using its trade secrets.
Emerson already owed $30m in compensatory damages and $30m in exemplary damages, but US District Judge Edward J. Davila added $17.4m in interest to the bill, calculated on a seven percent interest rate on the compensatory damages since October 2012.
Separately, the companies are fighting over how much Emerson will have to pay to cover BladeRoom's legal costs. A special master will be appointed to determine if the $24.5m BladeRoom requested is reasonable.
The only way is up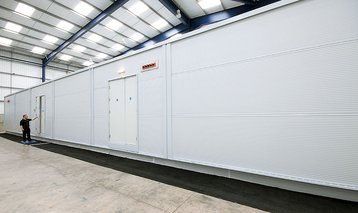 Emerson Electric Co., Emerson Network Power Solutions, and Liebert owe $77,476,717. While ENP and Liebert were sold off and became Vertiv, Vertiv is not part of the suit.
BladeRoom's case rested on six documents which showed that Facebook and Emerson conspired to use its designs without commissioning its services.
These included an email in which the pair agreed to have a "direct debrief" after meetings with BladeRoom, an internal document that stated their intention of working "with Emerson, to build a BladeRoom solution" and an email between Emerson employees discussing "leveraging what BladeRoom has done."
A jury ultimately found that Emerson had willfully used two trade secrets to build Facebook's data center in Luleå, Sweden.
BladeRoom also sued Facebook, but the companies settled last year for an unknown sum - with the network embroiled in the Cambridge Analytica scandal and CEO Mark Zuckerberg set to appear before the Senate, Facebook was reportedly eager to end ongoing litigation.
After this week's ruling, Law360 reports that Emerson filed a notice of appeal challenging the judgment on interest fees, along with the judge's decision on attorney fees, the jury's verdict and the judge's denial of Emerson's bid to compel Facebook and BladeRoom to disclose the terms of their settlement.
This article has been updated to clarify Vertiv is not involved in the litigation.