Khazna Data Centers has signed an agreement with Emergy to develop a solar photovoltaic (PV) plant that will supply power to one of the former's upcoming data centers.
Emerge, a joint venture between Masdar and energy firm EDF, has obtained a Solar Photovaltaic (PV) self-regulating generation license from Abu Dhabi's Department of Energy that will power Khazna's new (AUH 6) facility in Masdar, Abu Dhabi.
The plant will be able to deliver 7MW of peak power to AUH 6, currently under construction in Masdar City. Emerge will have full responsibility for the project, including finance, design, procurement, construction, operations, and maintenance, for 25 years.
The solar PV plant will take the company's Abu Dhabi portfolio, in operation and in delivery, to more than 25 MWp.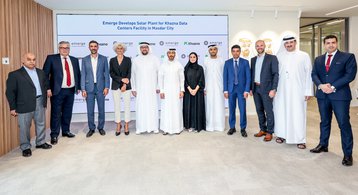 "The increasing demand for data has been astounding. To successfully meet the growing reliance on data and the rise of IoT, data centers have had to rapidly expand their infrastructure. As a result, data centers have inevitably become some of the world's main consumers of energy," said Hassan Alnaqbi, CEO of Khazna.
"At Khazna Data Centers, we recognize the impact that data centers have on the environment, and we are designing and constructing today's data centers with sustainability at top of mind in addition to implementing environmental solutions to help mitigate the effects of climate change."
Khazna announced it had broken ground on the new facility in April 2022. AUH 6 is expected to offer 31.8MW of capacity and is Khazna's second data center in Masdar, Abu Dhabi. AUH 6 is scheduled to be ready for operations in 2023.
Khazna currently operates eight data centers, has three under construction, and a further three in the pipeline totaling 220MW across the UAE. The number of facilities under the company significantly increased after the merger with G42 and Etisalat Group, first announced in October 2021. The merger between the three made Khazna the UAE's largest data center provider.
Both Etisalat Group and G42 have had accusations of working with the state on surveillance. G42 was tied to Pegasus LLC, a division of DarkMatter Group that shared an office with the Emirates' signals intelligence agency. Pegasus was renamed Pax AI and then became a G42 subsidiary, though the company has denied any links to the government. In 2009, Etisalat pushed an update to Blackberry devices in the country that included spyware.