Edged Energy has begun work on a new data center in the Aurora area of west Chicago, Illinois.
The company this week announced that it and Seefried Industrial Properties, Inc. broke ground on a new data center campus in Aurora. It is Edged's first project in Illinois.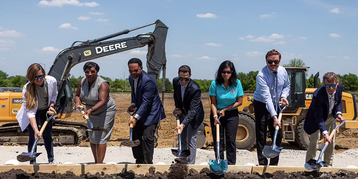 Edged said the 65-acre, multi-building campus is set to feature 100MW of capacity powered by renewable energy.
The campus will consist of three buildings constructed in three phases, with the first building scheduled for completion in June 2024.
The project will offer waterless cooling technology, on-site solar, EV charge points, 'alternative' fuels for its backup generators, and operate at a PUE of 1.15.
News of the development surfaced in January after real estate developer Seefried Properties filed for planning permission.
The campus is located on the southwest corner of Bilter and Eola roads in Aurora, to the west of Chicago. The site, at 2725 and 2815 Bilter Road, is close to CyrusOne facilities and near a ComEd substation.
Facility sizes weren't shared, but Building 2 will be the largest, set to be double the size of Building 1. Developers previously said they cannot say which company would anchor the new data center, but it would be one of Apple, Google, Microsoft, or Amazon.
Edged Energy is part of Endeavour, which was set up by Aligned founder Jakob Carnemark. The company is developing four facilities across Spain and Portugal in partnership with Iberian real estate company Merlin Properties.
It is also planning a data center in Atlanta, Georgia. On its website, Edged said it is developing new sites in Europe, North & South America, the Middle East, and Asia, but hasn't provided more details.