American data center giant CyrusOne is suing the local government of Aurora, Illinois, over the decision to approve a telecommunications tower built by Scientel Solutions.
CyrusOne was planning to build its own tower, on its own data center campus, after reaching what it thought was an exclusive agreement. The company claims that an extra tower would interfere with wireless communications that reach its data centers from the east, and result in frequency congestion.
According to Chicago Business, the CyrusOne tower was designed specifically for the needs of one customer - the Chicago Mercantile Exchange Group (CME), the largest futures exchange company in the world, which required low-latency connections for its trading operations.
Aurora is a suburb of Chicago, a city that, according to CBRE, is currently experiencing a serious shortage of data center space – to the point where deals are reportedly lost due to failures to deliver capacity on time.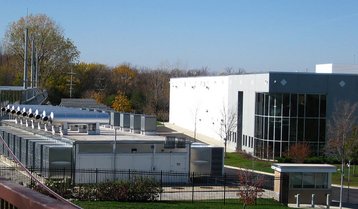 Tower VS tower
CyrusOne is a real estate investment trust (REIT) that owns more than 35 carrier-neutral data centers in the US, Europe and Asia.
Its data center campus in Aurora was owned by CME until 2016. It was sold for $130 million, with CME retaining its infrastructure thanks to a 15-year leaseback deal. CyrusOne proceeded to build a second data center on the site, and is planning a third.
As an upgrade to the campus, the company also planned to erect a 350-foot tower that would be used for high-speed, low-latency connections.
The lawsuit filed in in US District Court for Northern Illinois alleges that by approving another tower in Aurora in January, the local government violated both federal telecommunications laws and the city's zoning rules.
"Construction of the 195-foot communications tower proposed by Scientel on the property east of the CyrusOne tower will interfere with and physically block communication networks attempting to access the CyrusOne tower from the east, and has the potential to cause frequency congestion in the area," the company stated in a court filing.
It was previously suggested that Scientel could share the tower with CyrusOne to avoid construction of additional infrastructure.