Data center company EdgeConneX has spun out the electric vehicle charging business it quietly launched last year.
The new business, named Voltera, has equity backing from EdgeConneX's owner, EQT Infrastructure. The company named Matt Horton as its CEO, who spent two years at Rivian leading its energy and charging solutions, and nearly six years at EV vehicle powertrain company Proterra.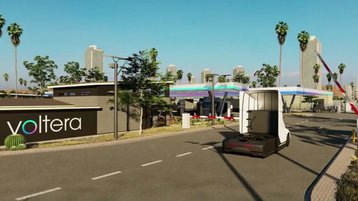 "As a pioneer in the digital infrastructure industry, EdgeConneX has solved many of the same challenges EV fleet operators and automakers face – acquiring, permitting, powering and operating sites in strategic locations, while ensuring customers' speed to market," EdgeConneX CEO Randy Brouckman said.
"It's a highly logical and practical application of our long-developed data center innovations to solve another very real and significant challenge. Voltera will advance the transportation industry like EdgeConneX did digital infrastructure. It's really all a part of our commitment to sustainable innovation."
Voltera will focus on customers that need to deploy charging infrastructure at scale, including fleet operators and automakers looking to deploy charging infrastructure to support EV sales.
The company will handle siting, acquiring, powering, building, and operating strategically located, fit-for-purpose charging facilities for clients.
"Fleet operators, automakers, and consumers alike are adopting electric vehicles at a rapidly accelerating pace," Voltera CEO Matt Horton said. "Lagging far behind, though, is the power infrastructure needed to support EVs at scale. We have to bridge that gap if we're going to make zero-emission transportation a reality. That's what Voltera is doing, and it's why I'm so excited to be part of this team."
When it was still part of EdgeConneX, the company pitched it as something that could marry with data center infrastructure. Images showed a driver amenities room with an en-suite Edge data center - something the company may still offer for clients that want it.
It also offered an "Autonomous Vehicle Data Offload" as a service, saying it is "developing data transfer stations for AV Depots" which will allow autonomous vehicles to simultaneously receive an electric charge and transmit data securely to the cloud.
The company tested out data offload at a test facility in Phoenix. It now says that it has a strong portfolio of sites already under development in North America.
Horton said: "The time is right to scale, and the market is hungry for new business models and creative market-driven solutions to address the power infrastructure challenges that have to date limited EV deployment at scale."
More in The Energy & Sustainability Channel