The European Centre for Medium-Range Weather Forecasts (ECMWF) has opened a new data center in Bologna, Italy.
The facility houses the Centre's new Atos BullSequana supercomputer system. Delivered over the summer, the system is scheduled to begin running operationally mid-2022.
As well as improving the accuracy of forecasts, the ECMWF said the new HPC system will improve the Centre's current supercomputing capability by a factor of five, and will facilitate work into the field of machine learning for numerical weather prediction, as well as work to create a digital twin of the Earth.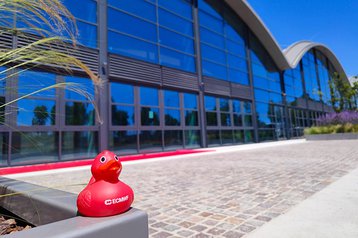 The data center is on the site of the Tecnopolo di Bologna campus that is redeveloping unused buildings and grounds of a former tobacco factory. Construction work began in December 2018, and the Atos XH2000 will sit in a 1,000 sqm (10,700 sq ft) data hall.
"It is an important moment in the life of ECMWF as we formally become a multi-site organization, with our head offices in the UK, our new data center in Bologna, Italy, and our new offices in Bonn, Germany," said Dr. Florence Rabier, Director-General of ECMWF. "After two years of work, which has never stopped despite the difficulties due to the pandemic, the new Data Center of the European Weather Center starts up at the Bologna Technopole."
Though its headquarters remain in the UK, the ECMWF Council made the decision to develop a new data center in Italy in 2017 after it decided its existing facility in Reading could not accommodate the Centre's next generation of supercomputers.
The ECMWF's Data Handling System (DHS), including more than 50,000 tape cartridges, will move from Reading to Bologna in the future, with the migration plan due to be fully outlined by early 2022.
ECMWF agreed to a four-year contract worth over €80 million ($94.6m) with Atos December 2019 to supply a BullSequana XH2000 supercomputer to replace its Cray XC40 supercomputers. The main system will be made up of four self-sufficient Atos BullSequana XH2000 clusters; each cluster will have 1,872 compute nodes featuring AMD Epyc Rome processors.
The facility includes solar panels to provide renewable power and cooling systems that use a mixture of groundwater cooling and dry coolers.