The European Centre for Medium-Range Weather Forecasts (ECMWF) has chosen to deploy its upcoming supercomputer in a new data center in Bologna, Italy.
The site in a former tobacco factory was identified during an international competition and is expected to open its doors in 2019.
The decision is fully supported by the Italian government, which has long lobbied ECMWF for a chance to host the organization's infrastructure.
A matter of prestige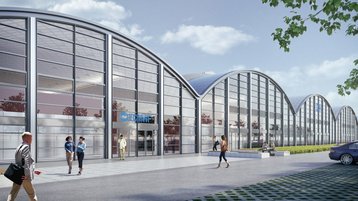 ECMWF is an independent intergovernmental organization established in 1975. Today, it is supported by 34 European countries, with headquarters in Reading, United Kingdom.
In 2016, ECMWF announced plans to considerably increase the resolution of its weather models, which would require a new high-performance computing facility with approximately ten times as much processing power as is currently available to ECMWF in its data center in Reading.
This week, the organization has finally voted to approve the proposal made by the Italian government. The upcoming data center will be hosted in Bologna, in a building re-designed by German architectural company Gerkan, Marg and Partners (gmp). According to the BBC, the project is expected to cost around €50 million ($55.8m).
"This new facility will allow us to upgrade our high-performance computing capability to the levels required to continue to advance weather science. The decision-making process has been long, thorough and at times difficult, and we have already incurred some delays which could have an impact on our computing capability within the next couple of years," said Florence Rabier, director-general of the ECMWF.
"Of course I want to especially thank the Italian authorities, who have worked tirelessly to ensure that their proposal meets all the required criteria."
The president of the ECMWF council, professor Miguel Miranda, added: "Weather forecasts in each of the Member States, and indeed far beyond, rely on ECMWF continuing to produce and deliver the best numerical prediction in the world. Today's decision will enable the Centre to start planning in earnest for the procurement of its next supercomputing system."