A cable connecting Pacific island nations has been scrapped after the US government warned Chinese firms posed a security threat.
Reuters reports that the World Bank-led project declined to award a contract for the East Micronesia Cable, rather than let it go to Chinese cable company HMN Technologies.
HMN was previously known as Huawei Marine Networks, but was sold to Hengtong Optic-Electric Co Ltd after US sanctions threatened its continued operations. The company submitted a bid 20 percent below rivals Alcatel Submarine Networks and NEC.
The cable was set to connect Nauru, Kiribati, and Federated States of Micronesia (FSM).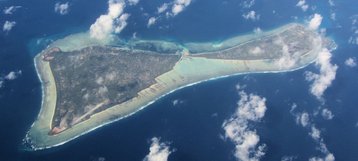 FSM has a military defense agreement with the United States, while Naru has close ties to Taiwan - as one of the few governments to recognize it as a country. Kiribati, however, switched its relations from Taiwan to China in 2019, and has grown ever closer to Beijing.
The East Micronesia Cable was also set to connect up to the HANTRU-1 submarine cable, which was funded by the US Army and connects the Ronald Reagan Ballistic Missile Defense Test Site in the Kwajalein atoll to Guam.
Guam, an unincorporated territory of the United States, has a significant US military presence.
A Chinese firm helping connect those nations was deemed too high a risk, with Washington sending FSM a note claiming that the company would cooperate with China's intelligence and security services - something the country denies.
"Given there was no tangible way to remove Huawei as one of the bidders, all three bids were deemed non-compliant," one of the sources said.